Decades of wise development transforms Zhuhai into coastal landmark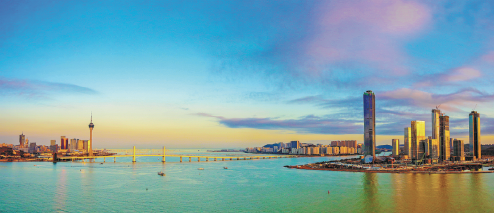 The Shizimen Central Business District of Zhuhai (right) stands opposite of Macao to the east. [Photo/China Daily]
One of China's first four special economic zones, the seaside city of Zhuhai in Guangdong province has developed from a remote, small town into a modern garden-style boomtown in the Guangdong-Hong Kong-Macao Greater Bay Area over the past four decades.
Behind this were innovation and highlights on economic development and environmental protection.
According to the local statistics bureau, Zhuhai's GDP increased from 261 million yuan ($37.74 million) in 1980 when the special economic zone was launched to nearly 343.59 billion yuan in 2019. The annual inflation-adjusted GDP growth rate is 17.4 percent on average.
Zhuhai had been a town focused on agriculture and fishery industry. But when the central government announced it would become a SEZ on Aug 26, 1980, Zhuhai welcomed unprecedented opportunities.
Its transport system has developed rapidly over the four decades. High-speed railways connect Zhuhai to more than 50 cities nationwide. Meanwhile, Zhuhai Airport serves more than 10 million passengers. Zhuhai Port realizes annual throughput capacity of over 100 million tons with shipping routes to regions such as South Asia, the Middle East and South America.
The Hong Kong-Zhuhai-Macao Bridge, which became operational in 2018, has aided connectivity among Guangdong, Hong Kong and Macao and promoted the development of the Guangdong-Hong Kong-Macao Greater Bay Area.
Local officials said Zhuhai has made several pioneering moves in the past four decades. For instance, a hotel co-founded by Chinese mainland and overseas businesspeople, which opened in Zhuhai in 1980, was among the country's first hotels to be managed according to international practice.
In 1992, the city launched an unprecedentedly generous prize for scientific and technological professionals who had made outstanding contributions to the local growth. The move helped to draw many high-caliber professionals to Zhuhai for the development of its real economy in many years that followed.
Zhuo Jialun, 81, is a former director of the Zhuhai scientific and technological committee and began to participate in setting up the prize in 1988.
Zhuo said: "At that time, Zhuhai had been a special economic zone for eight years and its economy was during a high-speed growth period, yet the scientific and technological innovation capability was not strong."
The city's authorities suggested its priorities change from labor-intensive industries to technology-intensive sectors in 1988, Zhu said. He added that more scientists and engineers contributed to this change but their incomes could not match their contributions.
Zhuhai held the first awarding conference on March 9, 1992. Three finalists were each given 1 million yuan worth of awards, which is roughly equal to 400 technicians' annual income in Zhuhai at that time.
After the event, Zhuhai became popular among the nation's scientific and technological professionals and entrepreneurs.
According to local statistics, Zhuhai drew 28 scientific and technological companies that year. This attracted a combined investment worth 600 million yuan in the field of sciences and technologies. Zhuhai also received more than 1,000 letters of intent to work in the city-more than 500 were from overseas.
Many enterprises, such as software giant Kingsoft and Gree Electric Appliances, a Fortune Global 500 company, began to burgeon in Zhuhai.
Guo Yonghang, Party secretary of Zhuhai, said the city, as one of China's earliest special economic zones, persisted in prosperity driven by manufacturing and technologies.
It has formed an industrial system involving sectors including marine and aviation industries as well as smart manufacturing, Guo added.
The city is working on emerging industrial clusters, such as integrated circuit, biological medicine, new materials, new energy and high-end printing equipment.
Leveraging its unique geographical position of neighboring Hong Kong and Macao and being the only city on the mainland with land links to both special administrative regions, Zhuhai has forged extensive cooperative ties with overseas partners.
It held the China-Israel Investment Summit in 2017 and 2018 and the China-Latin America and the Caribbean International Exposition in 2017 to set up opening-up and co-operative platforms.
In 1980, Zhuhai's value of imports and exports was only $19 million. The amount in 2019 reached $41.07 billion. By the end of 2019, 20,248 foreign-funded enterprises were operating in Zhuhai, official statistics indicate.
The ecological environment was also a highlight for Zhuhai's development. Among its trailblazing measures, the SEZ launched eight bans to protect the environment in 1992.One was that projects with big chimneys or heavy pollution potential were prohibited.
As it gained local legislative power in May 1998, the city approved its first legislative rule-one focused on environmental protection-in that month. In the same year, it was granted honors by the State as one of the nation's first environmental protection model cities.
In reports released by the Center for City and Competitiveness at the Chinese Academy of Social Sciences between 2014-19, Zhuhai ranked first among Chinese cities for six consecutive years in terms of its livability.
Chen Hongyu, a professor from the provincial Party school of Guangdong, said Zhuhai's high-quality development boasts its own characteristics.
Its unique, environmentally friendly development is worthy of even more praise, Chen said. He added that the city valued the natural environment when it became a SEZ and persisted in the following decades.
"Zhuhai has developed a sustainable growth model based on good ecology, which helped it attract diverse investment and professionals," Chen said.
songmengxing@chinadaily.com.cn