Favorable policies attract businesses to development district
The China-Singapore Guangzhou Knowledge City has become a magnet for promising businesses and projects thanks to its progressive business environment, according to local officials.
Founded in 2017 at the knowledge city, CanSemi Technology is Guangzhou's first manufacturer of 12-inch wafer chips.
The company has been mass producing the chips since September 2019, with an output of nearly 20,000 pieces per month.
"We spent only one and a half years setting up production facilities, faster than many chip enterprises worldwide," said Herman Lee, vice-president of the company. Lee said the project was given excellent support from the Huangpu district government. "In addition to favorable policies, local authorities streamlined the approval process, saving much time for the project's launch," he added.
CanSemi Technology's success has attracted several peers in the semiconductor and integrated circuit industries creating an industrial cluster with around 70 businesses at the knowledge city, according to local officials. Thanks in part to the project, the Guangdong-Hong Kong-Macau Greater Bay Area now boasts a proprietary chip industry chain including design, manufacture and packaging. This will boost the growth of information technology, artificial intelligence and consumer electronics in the area, Lee said. Next, the company will initiate the project's second phase to further ramp up its capacity.
"We signed a contract for the second phase in February with an additional investment of 6.5 billion yuan ($920.4 million). After construction is completed, our monthly output will rise to 40,000 pieces," Lee said.
Another company thriving in the knowledge city is cancer drug supplier Guangzhou BeiGene Biologics
With a combined investment of 2.3 billion yuan, the enterprise started production in December last year.
Liu Jian, general manager of the company, was impressed by the local government's customized and efficient services to ensure his project progressed smoothly.
The project's approval involved 21 departments, which was complicated and time-consuming, said Liu, adding that it took him two months to get the approval in the city where he used to work.
"But the local government mobilized related departments to work together for us, and we completed all procedures within one day," Liu said.
Huangpu district government has further released a slew of incentives to expand its talent pool including increasing housing subsidies and medical benefits. "Numerous researchers and experts in our company were attracted by these measures and chose to settle in the city," he said.
As the enterprise continues to prosper, it has given impetus to the development of the biopharmaceutical and healthcare industries in the knowledge city and surrounding areas, local officials said.
zhanglinwan@chinadaily.com.cn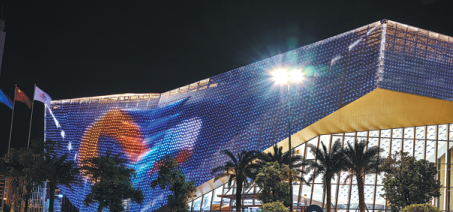 The China-Singapore Guangzhou Knowledge City has become a magnet for promising businesses.