Conference coordinates pollution control efforts in YRD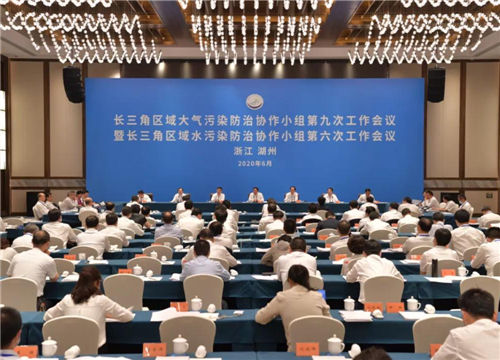 A government work conference themed on controlling air and water pollution in the Yangtze River Delta is held in Huzhou, East China's Zhejiang province, on June 6. [Photo/WeChat account: huzhoufabu]
Li Qiang, secretary of the CPC Shanghai Municipal Committee, called for the unification of environmental standards, supervision, and law enforcement in the Yangtze River Delta and for accelerating the region's transformation into a demonstration zone for green development.
Li made the remarks while chairing a government work conference themed on controlling air and water pollution in the YRD held in Huzhou, East China's Zhejiang province, on June 6.
He praised efforts made by provinces and cities in the region to combat pollution in recent years and pointed out existing problems such as the fragility of the local environmental and unbalanced development.
Efforts to control air pollution should focus on the main pollutants, the Party chief said, adding that efforts to rectify polluting industries such as the petrochemical, printing and dyeing, and industrial painting should be strengthened.
He called for efforts to facilitate the sharing of information related to pollutants, strengthen cross-regional coordination in environmental protection, supervision, and law enforcement and accelerate the development of an emergency response mechanism for dealing with environmental hazards.
More coordination between environmental protection facilities should be promoted such as those meant for new energy vehicles and for collecting and treating hazardous medical waste, Li noted.
Che Jun, secretary of the CPC Zhejiang Provincial Committee, said that under the guidance of the "Two Mountains" Theory—that "lucid waters and lush mountains are invaluable assets" – Zhejiang has made significant progress in ecofriendly development and in developing the province into a "big garden" in recent years.
Zhejiang will deepen trans-regional cooperation in environmental protection and contribute to anti-pollution efforts in the YRD, he pledged.
Huang Runqiu, minister of ecology and environment, said that notable progress has been made in controlling air and water pollution in the YRD since the establishment of a cooperative mechanism in the region.
He said that the quality of the environment in some cities in the region does not match their level of economic and social development, and called for an action plan to tackle existing problems.