Macao lent a neighborly hand by Zhuhai to help its people settle in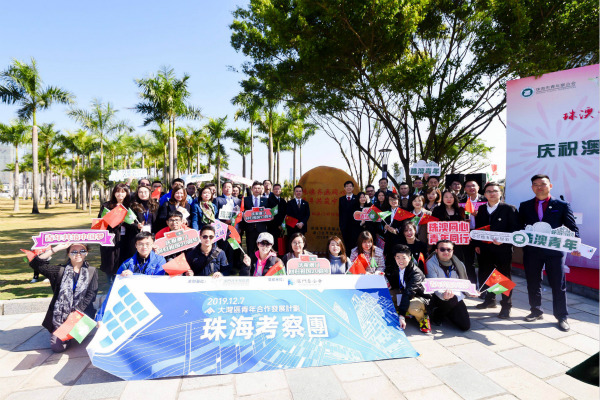 A group of young Macao people visit Zhuhai on Dec 7, aiming to seize cooperation opportunities in the city. [Photo/China Daily]
Zhuhai, a seaside city in South China's Guangdong province and the next-door neighbor of Macao, is taking measures to add convenience for the Macao people who live, work, do business in or tour the city.
One of its latest moves was to launch the Guangdong-Hong Kong-Macao Greater Bay Area Labor Dispute Joint Mediation Center on Dec 10, the first of its kind in China.
It is also known as Zhuhai (Hengqin) Labor Dispute Quick Mediation and Arbitration Service Station. The establishment will provide human resources management services, legal and consultation services related to social welfare, as well as dispute meditation to businesses and individuals from Hong Kong and Macao.
While boosting communication in the human resources sector and improving the business environment in the Bay Area, it will play a key role in promoting the development of a multifaceted labor dispute resolution mechanism locally.
Zhuhai government has been working hard to foster cooperation in social security and social governance with the Macao government and to enable the Macao people who are investing, working or living in Zhuhai to enjoy the same treatment as locals ranging from healthcare, education, as well as housing and transport arrangements.
Healthcare
In July, the city's Hengqin New Area, just a narrow stretch of water away from Macao, began a pilot program to entitle Macao residents living in Hengqin to the local basic medical insurance.
Those who have joined the program enjoy the same benefits as locals in Zhuhai. One of the recipients, who identified herself as Ng, said that she was happy to be included in the program.
"With the welfare, we will have more options to see doctors," she said.
"It generally takes a long time to see a doctor at a public hospital because you need to wait in turn; and it is much more expensive to see a doctor at a private hospital in Macao," she explained. "The healthcare welfare makes it possible for me to see doctors conveniently at many more hospitals on the mainland."
The program had been available to a total of 2,383 Macao people by the end of October, according to official statistics.
Meanwhile, Zhuhai has introduced other measures to enable Macao residents to receive quality healthcare services similar to Zhuhai locals.
As part of the efforts, Macao residents' information is incorporated into Zhuhai's healthcare system. This allows Macao patients to make appointments easily with doctors in Zhuhai. Zhuhai has also partnered with the University of Macau to build a precision medicine research and development center.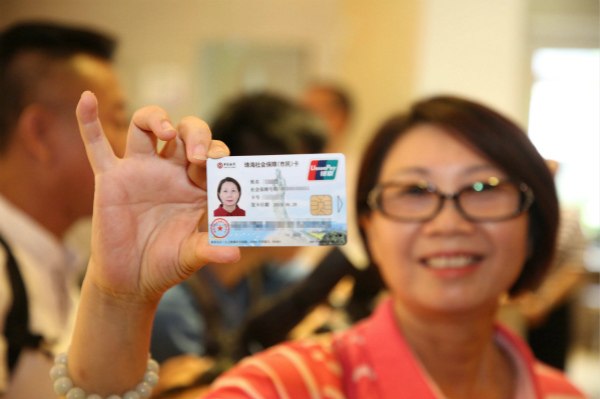 A Macao resident shows her medical insurance card issued by the Zhuhai government. [Photo/China Daily]
Transport and education
In March, Zhuhai launched cross-border commuter bus routes between Macao and the Hengqin New Area. It has since served more than 70,000 people, according to Zou Hua, director of the Taiwan, Hong Kong and Macao affairs office of Zhuhai. She spoke at a recent press event in Zhuhai in celebration of the 20th anniversary of Macao's return to the motherland.
Zhuhai has been arranging education opportunities for more than 1,500 children from Hong Kong and Macao annually. Many schools in Zhuhai have forged sister-school relationships with Macao counterparts.
Zou said preferential policies are available to Macao children who sit for school entrance exams in Zhuhai.
According to Zou, Zhuhai has hammered out policies to help university students in Macao start their own business or look for jobs in Zhuhai by offering incentives, internships, exchange programs and job fairs in Macao.
Citing an example, she said the Hengqin-Macao Youth Entrepreneurship Valley, a national incubator also known as InnoValley, has incubated 199 Macao projects.
Housing
Hengqin is where most Macao people choose to live or work in Zhuhai. Yang Chuan, head of the administrative committee of the Hengqin New Area, said that Hengqin is joining hands with Macao to arrange housing for the Macao people.
Covering an area of 180,000 square meters, the Macao New Neighborhood Project, jointly promoted by Zhuhai and Macao governments to address the land shortage in Macao, will open for bidding soon.
Public services in the community including education, healthcare and elderly care will be provided by companies or organizations designated by the Macao government. The Macao government will also set criteria for selecting qualified Macao buyers, according to Yang.
He said that Hengqin has made great efforts to make port customs clearance more convenient and to make it easier for Macao professionals to practice in the new area.
Professionals, such as tour guides and architects, who have registered to practice in Hong Kong and Macao, are allowed to provide services in Hengqin.
Currently, a total of 233 tour guides from Hong Kong and Macao have been licensed to work in Zhuhai. The first clinic operated by Macao doctors was opened in the Hengqin New Area in November, according to Yang.
Looking ahead, Zhuhai will build more infrastructure to connect Macao with the Chinese mainland. There will be high-speed trains and metro lines to link Macao with major cities in South China. Zhuhai will also increase water and power supplies to Macao to support the special administrative region's growth. Currently, Zhuhai's water supply meets 98 percent of the daily consumption in Macao. The power supply meets 90 percent.