THREE PILLARS FOR ECONOMIC PROGRESS
Big-name domestic and foreign industrial investors in the petrochemicals, steel and papermaking industries have staked their claims to be part of city's future
The BASF integrated petrochemical production site broke ground in Zhanjiang, Guangdong province on Nov 23, marking a new milestone in the city's industrial development.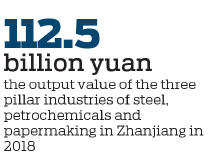 Stephan Kothrade, president and chairman of BASF China, said Zhanjiang is a perfect location for BASF to further strengthen its local production in China.
The new Verbund petrochemical production site is BASF's third-largest site globally, following sites in Ludwigshafen, Germany and Antwerp, Belgium. By 2022, the new engineering plastics compounding plant will supply an additional capacity of 60,000 metric tons per year in China, bringing BASF's total capacity of these products in the Asia-Pacific region to 290,000 tons a year.
Zheng Renhao, Party secretary of Zhanjiang, said this $10 billion smart project is the first solely foreign-invested project in the chemicals sector in China, adding that leaders from China and Germany paid close attention to it.
"It's the duty of the Party committee and the government of Zhanjiang to better serve the project and ensure its smooth proceeding," Zheng said.
The city's authorities deem industrial development a crucial way to boost the local economy and a solution to the inadequate growth of the real economy.
For this purpose, the government has mapped out plans to attract bigname industrial investors and support the growth of leading enterprises.
Another heavyweight petrochemical project is the Sino-Kuwaiti refinery-petrochemical integration project that is scheduled to be operational by the end of this year.
Construction is proceeding smoothly and on Oct 15, the 53.5-kilometer-long gas supply pipeline was completed. On Oct 30, installation of key production facilities including the gas fractionation unit, refining unit and spent caustic treatment unit were completed.
According to an executive of the project, the Sino-Kuwaiti facility will have a total investment of 38.55 billion yuan ($5.48 billion).
Its first phase will have an annual capacity of 10 million tons of refined oil and 800,000 tons of ethylene.
Domestic company Baosteel was one of the earliest big-name investors in Zhanjiang, investing in a huge steel-making facility.
Under the approval of the National Development and Reform Commission, Baosteel Zhanjiang was established in May 2011.
Invested by the Shanghai-headquartered Baosteel Group, the Zhanjiang facility broke ground on the city's Donghai Island in May 2012.
After seven years' construction and development, the company began to build its No 3 blast furnace on Mar 29.
Before that, the stable operations of the No 1 and No 2 furnaces helped the company boost its steel output to 7.98 million tons in 2018.
A number of new facilities, covering iron-making, continuous casting, hot-and-cold rolling as well as logistics, are still under construction at Baosteel Zhanjiang.
After the completion of such facilities by 2022, new annual capacities, including 4.02 million tons of molten iron, 3.6 million tons of molten steel, 4.5 million tons of hot-rolled and 1.66 million tons of cold-rolled products will be added to the company's portfolio, company executives predicted.
Baosteel Zhanjiang recorded sales revenue of 39.06 billion yuan and net profit of 4.21 billion yuan in 2018, while paying 1.05 billion yuan in tax to the local government.
Another sector that has attracted big investors in Zhanjiang is the papermaking sector.
Chenming Group, one of the leading papermakers in China, began to invest in its Zhanjiang plant in 2009.
Since then, Chenming has invested a total of 26.5 billion yuan in building four production lines.
The plant currently covers more than 200 hectares and has about 4,000 employees.
Last year, Chenming's Zhanjiang facility produced 1.85 million tons of paper. Its output value and net profit reached 13.5 billion yuan and 1.3 billion yuan.
The huge projects have helped to form three pillar industries in Zhanjiang, giving a strong boost to the local economy.
In 2017, the three pillar sectors of steel, petrochemicals and papermaking yielded a total output value of 109 billion yuan, growing 16.8 percent and accounting for 40.6 percent of the city's total industrial output value, according to local statistics.
In 2018, the three sectors' output value totaled 112.5 billion yuan, accounting for 47.4 percent of the city's total industrial output value.
In the first half of this year, the output value of the three sectors reached 54.7 billion yuan, accounting for 48.4 percent of Zhanjiang's total.
Chen Hongwen, a researcher at Zhanjiang Party School, said investments from leading domestic and foreign companies will help upgrade local industries to a higher level.
"We noticed that, driven by the big, advanced industrial projects, many local enterprises have grown toward the direction of higher added value, higher tech content and larger scale," Chen explained.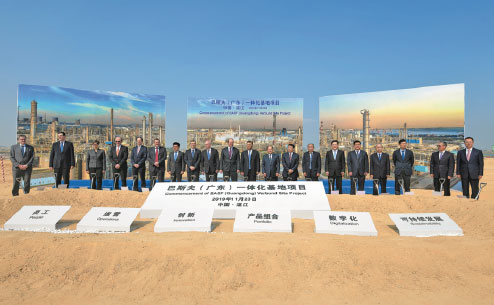 Company executives and Chinese officials at the groundbreaking ceremony for the BASF project on Nov 23.Lang Shucheng/for China Daily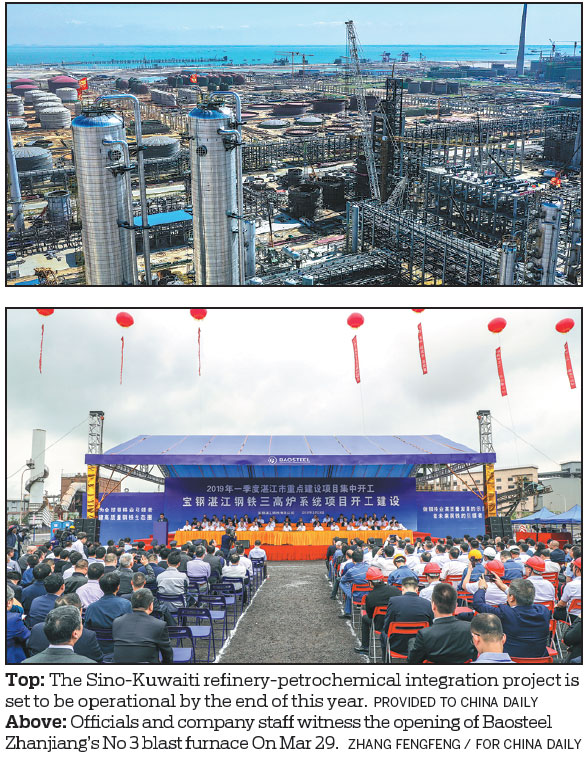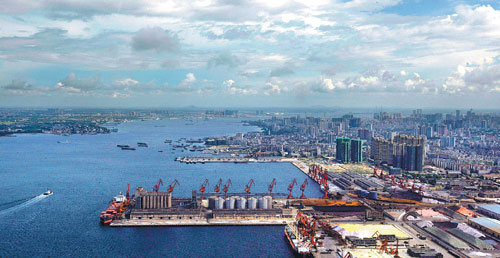 With a number of deepwater harbors, Zhanjiang is an important shipping hub in China.Li Bo/for China Daily
(China Daily 11/27/2019 page12)