Industrial projects to lure investors to Zhanjiang
Zhanjiang, a port city in the southwest of Guangdong province, will use its large industrial projects to attract investors.
Fu Zhonghuang, Party secretary of the Zhanjiang investment promotion bureau, said the upcoming or finished large projects will help the city consolidate its industrial foundation and form industrial chains as well as gather a large number of enterprises.
According to Fu, Baosteel's Zhanjiang facility, which became operational in 2015; the Sino-Kuwaiti refinery-petrochemical integration project, to be operational by year end; and the BASF integrated petrochemical production site, are expected to forge complete industrial chains in the steel and petrochemicals sectors and create huge business opportunities for downstream and upstream players.
For instance, Fu said, the Sino-Kuwaiti project is expected to form a downstream industry with a combined value of about 200 billion yuan ($28.4 billion). And the BASF project will help extend the value chain to cover more sectors and benefit more related enterprises.
The official said the city's authorities have worked out measures to publicize the city's industrial advantages among potential investors.
Local international trade and investment events are being held for investment promotion. The local government has also sent investment promotion teams to take part in various trade fairs and expos to make Zhanjiang's business opportunities better known to targeted partners.
The city is also building industrial parks to match existing and planned big projects, Fu said.
In 2018, for instance, 18 steel-related projects became operational in the city's steel industrial park, the total output of which is worth 2.6 billion yuan.
Highlighting the role of big projects in driving industrial growth and creating new business opportunities, Chen Hongwen, a researcher at Zhanjiang Party School, said the projects can have a multiplication effect on the local economy.
"We have already formed industrial chains in the papermaking and steel sectors and can expect more investment to come with the BASF and Sino-Kuwaiti chemicals projects," Chen said.
Wu Xiwei, general manager of the Sino-Kuwaiti refinery-chemical integration project, said the project's operation is expected to bring in more investment in the local plastic, fine chemicals and electronic chemical industries.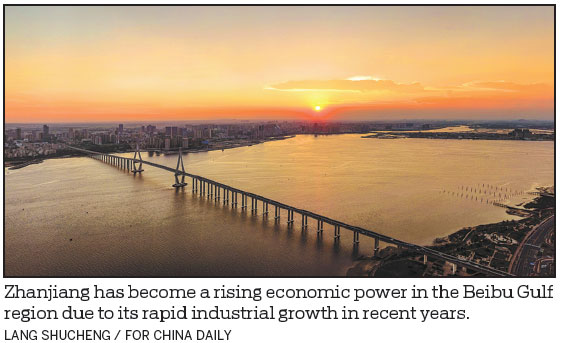 (China Daily 11/27/2019 page12)