Region on fast track to becoming greener with blessing from NEA
On a river bank in the Hainan Tibetan autonomous prefecture, rows of blue solar panels stand near pylons. It is one of two large photovoltaic power centers that Qinghai province in Northwest China is developing.
By early October, 45 billion yuan ($6.45 billion) had been invested in the center, which is capable of generating more than 4.49 million kilowatts in concentrated solar power.
Qinghai has made clean energy one of its four calling cards to achieve high-quality development since 2018 and wants to build itself into a special zone of electricity.
The National Energy Administration in March approved Qinghai to develop into a national clean energy demonstration province.
By the end of June, the province's installed capacity of new energy had surpassed 12 million kW. Statistics show Qinghai contributed about 11 percent of China's solar energy resources, and theoretical reserves of the province's hydroelectricity resources is 21.87 million kW.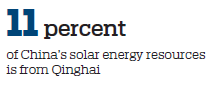 Qinghai has held seven-day and nine-day events to achieve 100 percent power supply by clean energy since 2017. During the events, clean energy such as water, wind and sunlight is used to support civil, corporate and municipal power utilization. In last year's nine-day event, Qinghai used clean energy to supply 1.76 billion kilowatt-hours, equivalent to reducing 800,000 metric tons of coal fire and an emission of 1.44 million tons of carbon dioxide.
This year, a similar 15-day event was held from June 9-23, when power supply from clean energy reached almost 2.84 billion kWh.
The power not only satisfied the province's own needs but was also transmitted to eight other regions including Shandong and Henan provinces.
Qinghai has formulated a plan for developing into a national clean energy demonstration province. Accordingly, the province plans to be at the forefront nationally on the energy's development and utilization by the end of 2020. Clean energy is projected to account for 41 percent of the province's total energy consumption by then.
The province also emphasizes the comprehensive utilization of salt lake resources. It is home to more than 100 such lakes. Utilization of related resources has become a pillar industry in Qinghai.
Qaidam Basin in the province abounds in salt-lake resources. Its exploitable reserves of mineral salt reached 340 billion tons, including 735 million tons of potassium chloride and more than 17 million tons of lithium chloride.
The province's salt lake industry has boasted five categories: sylvite, sodium salt, magnesium salt, lithium salt and chlor-alkali.
Magnesium metal has become a key project in the Qaidam circular economy experimental area, one of the country's first 13 circular economy pilot sites.
Production of potash fertilizer is almost mature and stable, local media reported, adding Qinghai has gained a leading global position in terms of both technology and production scale.
Exploitation and utilization of salt-lake resources in Qinghai has improved in recent years and a circular industrial system has been established involving exploitation of the resources, and industries of energy, chemicals, nonferrous metal, new energy and new materials.
Qinghai is also on the way to becoming a demonstration province of organic agricultural and animal products. It is one of the country's five pasturing areas and has more than 20 million cattle and sheep. It is home to more than 2,800 large farms and can offer about 15 million tons of organic fertilizers annually.
Qinghai's agricultural and animal products, such as yaks, Tibetan sheep and highland barley, are of natural varieties and have broad market prospects.
The Ministry of Agriculture and Rural Affairs and Qinghai signed an agreement on cooperating to develop the province into a demonstration production center of organic farm products. The ministry will provide leadership, technology, policy support and project capital and help to reduce use of chemical fertilizer and pesticide and establish a traceability system of agricultural products.
Qinghai plans to replace chemical fertilizer with organic fertilizer on all crops and reduce the usage of pesticides by more than 60 percent by the end of 2023.
songmengxing@chinadaily.com.cn

From left: Rural students at school in Banyan village in Qinghai's Huzhu Tu autonomous county. provided to china daily Cyclists from China and abroad compete during the Tour of Qinghai Lake 2018. Provided to China Daily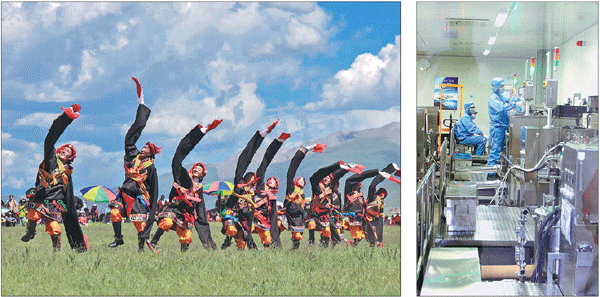 From left: Tibetan people in Qinghai dance to showcase local culture. provided to china daily Employees work in a lithium-ion storage battery plant in Qinghai. Li Xiaogang / for China Daily