Qinghai boosts cultural industry
Province allocates 27.1 million yuan to alleviate poverty and promote rural tourism to increase income in 2018
Boasting picturesque scenery and rich cultural resources, Qinghai is making efforts to boost its cultural tourism industry.
Official statistics show that 1.06 million people in Qinghai are directly or indirectly engaged in the cultural tourism industry, accounting for more than one-sixth of the province's total population.
Last year, Qinghai received 42.04 million visits to its attractions, and tourism revenue reached 46.63 billion yuan ($6.65 billion). During this year's weeklong National Day holiday, more than 3 million tourists fro home and abroad visited the province, up 18.2 percent year-on-year.

Kiang or Tibetan wild donkeys are native to the Qinghai-Tibet Plateau. Herds of the donkeys are confined to plains of the Qinghai-Tibet Plateau, Ladakh in Kashmir and northern Nepal along the border shared with the Tibet autonomous region.
According to the Qinghai Provincial Department of Culture and Tourism, with rapid economic and social development, Qinghai's cultural industry is expanding, and tourism consumption is becoming popular among the general public.
The province has hosted a series of festivals and activities to allow more people to experience its charm. Among these events is the 2019 Qinghai Cultural and Tourism Festival, which started in Xining, capital of the province, in April.
With the theme of "Green, Harmony, Integration, Innovation", the half-year event included 373 major activities such as performances, forums, a signing ceremony and an exhibition of Qinghai's development related to the Belt and Road Initiative.
Held in the Qinghai Tibetan Culture Museum, the exhibition displayed nearly 400 cultural relics from 13 museums and cultural organizations in Qinghai.
The event was intended to showcase the brilliant culture and history of Qinghai while enhancing people's cultural confidence and promoting Qinghai's involvement in the BRI, said Yang Fengchun, vice-governor of Qinghai.
Another highlight of the festival was the launch ceremony of Qinghai's cultural welfare cards, as part of a pilot program.
Each cultural welfare card has a face value of 500 yuan, with 80 percent of it subsidized by the government and the remaining 100 yuan paid by cardholders. At the initial stage of the project, 50,000 cultural welfare cards were issued to Xining residents. Cardholders can use their cards to purchase books and tickets to theater performances and scenic spots.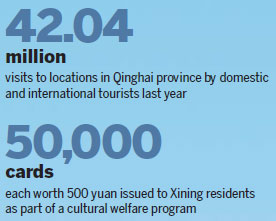 According to the local government, the project will play an important role in fostering cultural consumption habits and meeting expectations for high-quality cultural life.
Qinghai has also integrated cultural tourism with poverty alleviation in recent years, striving to develop featured rural tourism.
In 2018, Qinghai allocated 27.1 million yuan for poverty alleviation and rural tourism. Achievements included five rural tourism demonstration villages and 50 poverty alleviation and rural tourism projects.
Cultural and tourism industries have become vital channels for farmers and herdsmen to increase their income, said Tsering Thar, deputy director of the Qinghai Provincial Department of Culture and Tourism, adding that they are growing into sunrise industries closely related to people's well-being.
From November 2019 to April 2020, Qinghai will host the Winter and Spring Cultural Tourism Festival to attract more tourists in off seasons.
zhanglinwan@chinadaily.com.cn