Dancers sashay to Siming for BRI ballroom event
More than 5,000 ballroom dancers from countries and regions involved in the Belt and Road Initiative twirled and shimmied on the dance floors of Siming district in Xiamen on Nov 1, hoping to be crowned winner in a vast array of categories.
The three-day 2019 CBDF "the Belt and Road" World Open Ballroom Championships was organized by the China Ballroom Dance Federation and Siming district government, which aspire for it to become a world-class event.
Wang Yonggang, vice-president and secretary-general of the CBDF, said he hoped the event can better promote ballroom dancing and provide a platform to train troupes of dancers.
Competitors, guests and judges came from countries and regions involved in the BRI, as a part of efforts to promote the development of BRI culture and art.
"Siming district attaches great importance to promoting its local cultural brands. A year on, we've come here again. The competition has attracted dancers from more than 20 countries and regions. In addition to the competition, they also felt the city's charm and beauty," Wang said.
He said the success of the first competition last year caused great sensation in dancing circles. In the first half of 2019, a series of ballroom dance activities were held in the district, including a ballroom dance training camp for Chinese and foreign college students and an elite salon for talent, which is making Siming a popular destination for ballroom enthusiasts.
Yao Yuping, deputy director of Siming district, said the event is a heavyweight brand for the district's "sports fashion season" this year, and he hoped to build it into a key platform to gather dancers, guests and judges from BRI countries and regions as a window for cultural and sports exchanges in Xiamen.
The event invited many famous international judges, including Robin Short, honorary president of the World Dance Council and Jelena Samuilova, president of the Latvian Professional Dance Sport Federation.
"I am honored and delighted to attend the 2019 CBDF Championships in Xiamen. I believe that this important event will receive large entries and all competitors will try their best to give excellent performances," Short said.
This competition is the only international ballroom competition in China that takes BRI as the theme.
One of the highlights of the competition was a dance-off among seven countries: Russia, Ukraine, Poland, Italy, Latvia, Lithuania and China. Dancers speaking different languages and from different cultural backgrounds put the achievements of the BRI on full show.
Stanislav Popov, honorary vice-president of the World Dance Council from Russia, led the Russian team and won first place with 101 points. This was his second visit to Xiamen.
"Last year, we earned second place, this year we won the championship. Thanks to the competition, I got the chance to know China and Xiamen," Popov said.
Marcel De Rijk, president of the International Dance Asia Association and vice-president of the Euro Asian Dance Council, was appointed as the lead judge of the competition. He said the young dancers showed tremendous potential.
World professional modern dance champions Domen Krapez and Natasha Karabey from Germany and world Latin dance champions Nikita Brovko and Olga Urumova from Russia also performed, proving a popular draw at the event.
Gu Kunxuan, a dancer from China said: "The development of Xiamen ballroom dancing is getting better and I feel the progress every time I take part in a competition like this."
During the event, the first Euro-Asian Ballroom Dance Championship was held in Xiamen.
The competition is an important part of what Siming district calls its "sports fashion season".
Guo Yinfang, deputy director of Siming cultural and tourism bureau said: "Siming district's sports fashion season this year will last for 100 days, starting from October and ending in January in 2020. We hope to promote our culture, sports and tourism while hosting more than 20 events."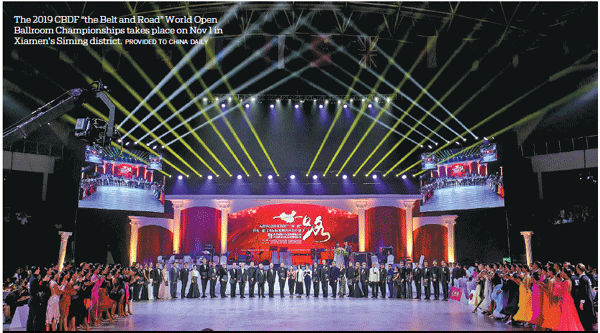 The 2019 CBDF "the Belt and Road" World Open Ballroom Championships takes place on Nov 1 in Xiamen's Siming district. Provided to China Daily

From left: Young dance partners strut their stuff in front of judges during the competition. Professional dancers embrace midperformance. Latin dancers strike a pose during the event. Lin Yuyang / For China Daily