Expatriates laud project for making travel much easier
The Hong Kong-Zhuhai-Macao Bridge, which has been in operation for a year, is making travel much easier among the three cities, said expatriates in Zhuhai.
An expat with the given name Lorelei, who is from Los Angeles, the United States, has lived and worked in Zhuhai for the past five years.
She had taught in a local international school for four years and now runs an educational media company in Zhuhai.
She said the bridge is making life much easier for expats as well as tourists.
"Since the bridge opened, I have been to Hong Kong about once a month or every other month. I also go to Macao for dining and visiting friends. I now have a Hong Kong Disneyland pass and can travel there more often," Lorelei said.
"From my apartment to the Hong Kong airport, it now takes me less than an hour (by taking the airport bus)," she added.
The traditional method of travel to Hong Kong is via ferry.

"With the bridge, I no longer worry about running late, being slowed down by traffic or the weather and I don't worry about ferry tickets being sold out," Lorelei said.
A frequent visitor to Disneyland, Lorelei said it is faster for her to get to Disneyland in Hong Kong than from her LA home to Disneyland in Anaheim because she can take the same airport bus, stopping further along the route.
"Flying frequently between Hong Kong and Los Angeles, the bridge makes life much easier, not just for me but friends and family," Lorelei said.
Blazo Popovic from Serbia shares the same views with Lorelei. He has been in Zhuhai for one year and is trying to start a business consulting company.
"I use not only the bridge to go to Hong Kong, sometimes I use the ferry," Popovic said.
"For me, the bridge is the much better, easier and faster way," he added. "All you need to do is to take a taxi to the bridge port and then take the bus or the car from the port to Hong Kong or Macao. It's very convenient and very fast."
He thinks the bridge is very important for expats in Zhuhai like himself because they often use Hong Kong airport when they travel to Europe or other destinations around the world. And the Hong Kong airport has more international flights than its neighbors.
While helping tourists' travels among the three cities, Popovic said the bridge itself is a main tourist attraction.
"Every day in Zhuhai I see tourists taking pictures with the bridge in background," Popovic said.
Victor Ladreda from Spain is head of Zhuhai Hengqin Free Trade Zone's trade and investment representative office in Spain, who flies frequently between Spain and Zhuhai.
Ladreda said the bridge is among the most impressive projects in the world and will help boost the integration of the three cities of Hong Kong, Macao and Zhuhai.
He said Hong Kong and Macao are major destinations for foreign businesspeople and tourists. And the bridge will further bring the two cities closer to the Chinese mainland and the rest of the world.
The bridge can greatly promote the flow of cargo and people among the three cities and will create more job opportunities in many sectors, Ladreda said.
"For companies, better connectivity will save time and costs," he added.
Leung Chun-ying, former chief executive of the Hong Kong Special Administrative Region, said the bridge's potential is yet to be fully explored.
"The bridge would be a good starting point," Leung said. "This is not just about getting financial return on the massive investments that have been made by all sides. It's about getting economic and social dividends."
However, he said "So far we have not used the bridge to its fullest potential".
According to Leung, in the first 10 months of operation, average daily flow was 3,800 vehicles. On a 12-hour basis, the flow was equivalent to five vehicles per minute.
"The flow is small because existing policies allow only a small number of vehicles to cross the bridge. The number of dual-licensed vehicles in Hong Kong plus vehicles that are allowed under the existing quota system are too small," he explained.
He suggested the quota be adjusted depending on resultant traffic conditions and applications by drivers be made online with instant approval.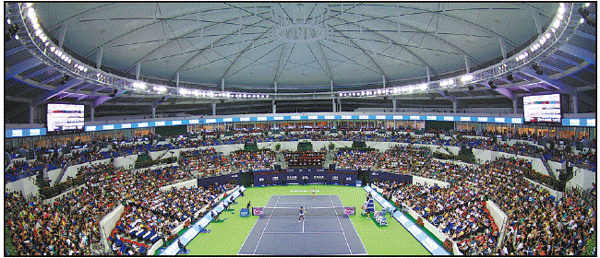 The Zhuhai WTA Elite Trophy is one of the international sports events that expats and locals can enjoy in this coastal city. Provided to China Daily