Bridge anniversary celebrated as number of tourists increases
The one-year anniversary of the opening of the Hong Kong-Zhuhai-Macao Bridge will be celebrated this month and Zhuhai locals say it has made the city better.
As the only city on the Chinese mainland that connects both Hong Kong and Macao with a bridge, Zhuhai enters a new era for tourism development thanks to the bridge and other newly added facilities.
During the recent National Day holiday on Oct 1 - 7, the city welcomed more than 2.71 million visits, up 7.2 percent year-on-year. It was among the 10 most popular cities for individual tourists during the period, as reported by Chinese major online travel services platform Ctrip.
Foreign visitors came from countries like the United States, Thailand, Singapore, Malaysia, Vietnam and Australia.
The most visited popular tourism sites in the city are the Hong Kong-Zhuhai-Macao Bridge; Zhuhai Opera House, a shell-shaped building on an island; a landmark statue of fisher maiden; the Zhuhai Chimelong Ocean Kingdom and amusement park, the outdoor hot spring tourism resort in Doumen district and the newly opened Lion Gate films experience entertainment backed by virtual reality.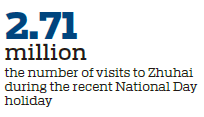 According to the development plan for the Guangdong-Hong Kong-Macao Greater Bay Area released in February, the Bay Area aims to build an excellent environment for living, business and travel.
The plan also said the sea and coastal resources should be made most use of to develop a marine economy and a world-class attraction.
This year, the city government put forward an idea to develop three touring sites for the public to further beautify the environment - a range of parks that the locals called the "city balcony", the Yeli island and Yinkeng peninsula.
The "city balcony" will have various facilities for marine sight-seeing such as pavilions and trails stretching along the long coastline of the city. It will also introduce culture, tourism and commerce-related business. The project is expected to improve the well-being of local residents while attracting tourists.
The Hengqin New Area is on track to becoming an international leisure tour island to integrate with the economy of neighboring Macao. The orientation is set according to a proposal by the National Development and Reform Commission in April.
The Wanshan district of Zhuhai is famous for its many islands. In May, Lyu Hongzhen, director of the management committee of the district, said at a news conference in Beijing that the district is developing a wedding service industry base, an outdoor sports center and offshore fishing tours.
The district held its first coastal wedding carnival, a food season, mountain marathon and sailboat racing this year as part of its goal to build a high-end marine and island vacation destination.