City strengthens ties with Latin America and Caribbean partners
Zhuhai, a core city on the west bank of the Pearl River Estuary, is striving to strengthen its partnership with Latin America and the Caribbean.
One of its latest moves is the"2019 Chilean Entrepreneurs' Hengqin Tour" in August, an event to help Chilean businesspeople tap opportunities in China and forge one-on-one business ties with their Chinese counterparts.
A total of 30 Chilean businesspeople came to the Hengqin New Area of Zhuhai, which is also one of the three pilot free trade zones in Guangdong. They reached initial intent of cooperation with around 90 Chinese enterprises during the event.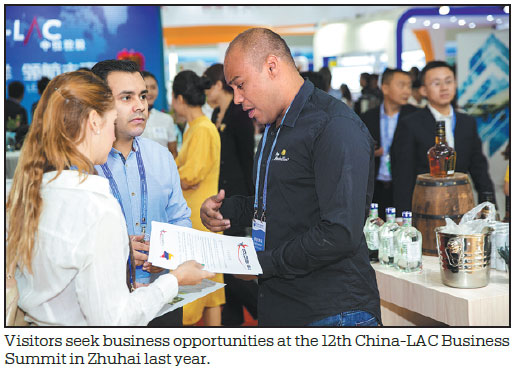 The tour is another event Zhuhai has hosted to develop economic and trade relations with LAC, following the China-LAC Expo in 2017 and the 12th China-LAC Business Summit in 2018.
Yang Chuan, head of the administrative committee of the Hengqin New Area, said taking advantage of the free trade zone policy and teaming up with Macao to promote China-LAC cooperation has always been Zhuhai's crucial action to participate in the Belt and Road Initiative.
Hengqin will play a leading role in China-LAC cooperation and will open up international trade channels so as to become an important platform for China-LAC deep collaboration, he said.
"Being the next-door neighbor of Macao and an important city of the Guangdong-Hong Kong-Macao Greater Bay Area, Zhuhai has a unique advantage in attracting LAC enterprises and can become the bridge in the Chinese mainland linking Chinese and LAC's markets," said Jiang Shixue, a researcher with the Chinese Academy of Social Sciences.
In addition to economic and trade activities, Zhuhai officially launched the Latin American Comprehensive Bonded Hub Project in the city's Gaolan Port Economic Zone in March.
The project featured warehousing and logistics, processing and development, as well as business and finance.
Yuan Lie, president of Sino-LAC Holding Group, said the hub will offer full chain services for the import of LAC's agricultural and livestock products as well as for the export of Chinese manufacturing products to LAC.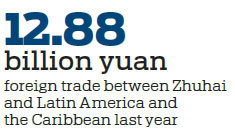 "It will also become the freight logistics base of Sino-LAC Airlines," Yuan said.
Bilateral trade via the hub is predicted to reach 15 billion yuan ($2.11 billion) in the first year after the project is in use and to grow at an annual rate of 20-30 percent.
The hub is not the only project for China-LAC cooperation in Zhuhai.
In 2017, the city opened the China-LAC Economic and Trade Cooperation Park in Hengqin in an attempt to set up platforms for international trading, for China-LAC's commodities and cross-border e-commerce cooperation as well as for the China-LAC financial cooperation service within the park.
The park is also committed to establishing the centers of China-LAC leisure tourism culture exchanges, corporate legal service and policy research and innovation, advancing the development of China's comprehensive cooperative relationship with LAC. In February, the central government issued a master plan for Guangdong-Hong Kong-Macao Greater Bay Area development, which states that it supports Hengqin and Macao to jointly build platforms for China-LAC economic and trade cooperation, set up international trade channels between the Chinese mainland and countries involved in the Belt and Road Initiative, and promote the model innovation of service trade.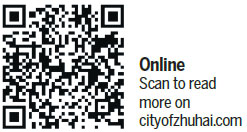 Moreover, Hengqin is encouraged to provide support for Macao's cross-border e-commerce industry and make it more convenient for products of Portuguese-speaking countries to enter the Chinese mainland's market through Macao.
Zhuhai and LAC generated foreign trade of some 12.88 billion yuan in 2018 and the city's exports to LAC were worth 9.27 billion yuan in the year, official statistics indicate.
zhanglinwan@chinadaily.com.cn