Belt and Road paves the way for overseas investment
Companies based in Zhuhai finding ways of branching business out into key African and Asian markets
XH Smart Technology Africa, a subsidiary of the Zhuhai-headquartered XH Smart Tech (China) Co recently opened an information technology institute in South Africa. The institute is part of its effort to nurture more female IT experts in the region.
In August, XH held an inauguration ceremony for the Faith Mangope Technology and Leadership Institute in Johannesburg, South Africa.
In cooperation with local host Faith Mangope, the institute aims to provide IT majors in South Africa with financial support.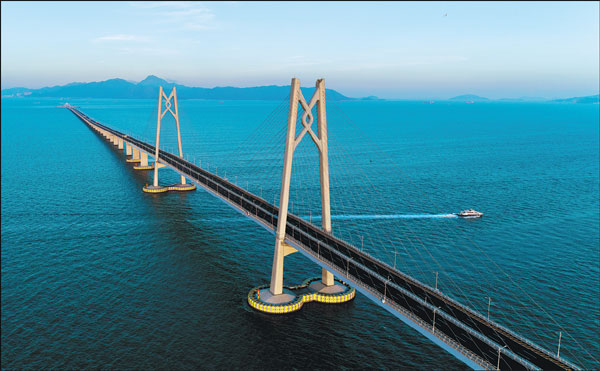 The view of the Hong Kong-Zhuhai-Macao Bridge. Photos Provided to China Daily
Chen Jie, an executive at the company, said XH is dedicated to observing Africa's local environment and participates in social welfare construction.
"We hope the institute can help African women to achieve in studies and contribute to Africa's social and economic development," Chen said.
Chen added the move can also help promote a bilateral relationship between China and Africa in cultural exchanges.
In 2016, XH cooperated with its counterpart in South Africa to establish the subsidiary.
Last year, the African subsidiary offered more than 12 million social security cards to residents and had become a key bank card provider in South Africa.
Just like XH, companies of Zhuhai have forged ahead in developing overseas businesses thanks to the Belt and Road Initiative.
"Private companies have become stronger and require a bigger market.
"That can be achieved through opening-up and cooperation with overseas partners," said an official at the Zhuhai Enterprise Association for Foreign Economic Cooperation.
Private enterprises are more sensitive and flexible to markets. They are willing to enhance their international competitiveness by building overseas manufacturing bases, directing mergers and acquisitions, and managing contracted projects, the official said.
Many companies of Zhuhai have made significant achievements through cooperation in infrastructure development, equipment manufacturing, commercial services and information technologies, he added.
For example, home appliance giant Gree has won bids to projects in countries including Pakistan, Laos and Myanmar.
Information security solution and service provider Eastcompeace has set up subsidiaries in Singapore, Bangladesh, India and Russia. Meanwhile, China Singyes Solar Technologies has invested in a project to construct a smart microgrid in the Kingdom of Tonga.
It is expected to deliver more than 2.8 million kWh of clean energy and help solve the electricity shortage for nearly 1,000 households.
Official data showed that between 2013-18, the total import and export volume of goods traded between Zhuhai and countries and regions involved in the BRI amounted to 642.1 billion yuan ($90.46 billion).
This accounted for 34.4 percent of Zhuhai's total trade in goods. In the same period, Zhuhai invested in 57 projects in BRI countries.
They signed agreements worth $156 million, according to the commerce bureau of the city.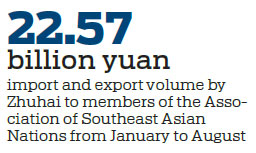 In 2018, the total import and export volume of goods traded between Zhuhai and BRI countries was 117.3 billion yuan.
It represented an increase of 8.53 percent year-on-year, accounting for 36.13 percent of the total export volume of the city. As local companies continue to develop overseas markets, the Zhuhai government has provided them with policy support and set up public information service platforms.
In addition to financial support, the city focused on environmental construction, which creates opportunities for local companies to participate in the BRI, said an official from the Zhuhai Private Economic Development Institute.
As of April, Zhuhai had welcomed a total of 260 companies from the BRI countries and attracted foreign capital of $1.1 billion.
Most of the money comes from industries including manufacturing, real estate and hospitality, according to the local government.
Data from the city's commerce bureau showed that from January to August this year, the total import and export volume of Zhuhai to members of the Association of Southeast Asian Nations was 22.57 billion yuan. The total import and export volume of the countries and regions involved in the BRI was 67.95 billion yuan.
There is more room for cooperation between Zhuhai and BRI countries in investment and trade, said an official at the commerce bureau. In a bid to help local companies expand overseas investment, the local commerce bureau has held a series of exchange activities and cooperated with the city's overseas trade offices to launch marketing activities in developed regions around the world, local officials said.
liangkaiyan@chinadaily.com.cn