Region's ecology benefits from forest growth
Having planted trees for almost seven decades, East China's Fujian province has become one of China's biggest success stories in terms its sheer number of forestry plantations.
After the War of Liberation (1946-49), the province had only two public forestry plantations, said Chen Liangchang, head of Fujian's administration bureau for State-owned forest.
In the early period of the founding of the People's Republic of China, policymakers proposed expanding tree planting in the province led by the cities of Fuzhou, Quanzhou, Nanping and Zhangzhou, as part of its efforts to promote the country's ecological development, Chen said.
Since 1957, the province has seen an upsurge in forestry plantations, he added.
Located in the northwest of Fujian province, Taining county was approved as a State-owned forestry plantation, and Sun Guixiang, 71, has worked there since the 1960s.
Sun has witnessed the great changes over the past decades. "Women and men did the same jobs no matter how physical," she said. "Each worker had to pull 500 seedlings per day."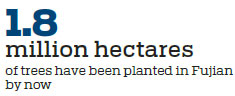 After years of development, the forestry plantation has upgraded its operations through cooperation with local villages. Meiqiao village of Taining county is a beneficiary of the cooperation.
Last year, with the Taining State-owned forestry plantation, the village began to plant trees with the aid of support funds, technology and operation management, said Li Qinglin, Party secretary of Meiqiao village.
"The land used to have no vegetation due to capital shortage," Li said. But now it is home to an area of 17.8 hectares of forest, he added.
To date, the forestry plantation has led to 80 hectares of forests in the county, with the size expected to top 1,000 hectares by 2020, local officials said.
Zhang Ying, 86, who used to work for another State-owned forestry plantation in Jiangle county of Sanming city, said that he and his colleagues had suffered from the poor environment in years past.
"Staff members (of the plantation) all lived in shabby houses and ate just bamboo, rice and assorted vegetables," Zhang said.
He said that from the 1950s to 1970s more than 100 people worked on forestry management and planted more than 3,000 hectares of new forest in that time.
The Yangkou forestry plantation in Nanping city is home to Chinese fir trees.
"In the late 1950s, the province authority proposed to develop forestry plantations and built a base for fast-growing and high-yielding timber," said Huang Jinhua, deputy head of the forestry.
At that time, the then professor of Nanjing Forestry University Chen Yuewu led a team to conduct groundbreaking research in developing the first generation Chinese fir seeds.
With Chen's efforts, the forestry plantation planted the first to the third generation of Chinese firs.
The plantation is expected to plant the fourth generation first by 2020, according to Huang.
To date, the province has a total of 35 State-owned forestry plantations, conducting seed breeding and the farms contain 8,000 tree species, which have been used to produce 420,000 high-quality forest products.
Fujian has planted 1.8 million hectares of trees that are expected to generate an economic benefit of more than 11 billion yuan ($1.55 billion).
liangkaiyan@chinadaily.com.cn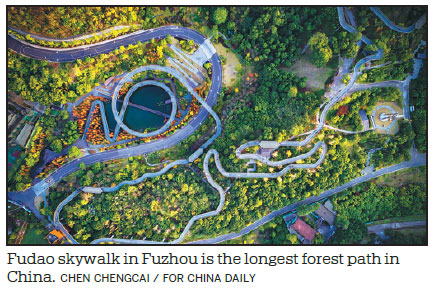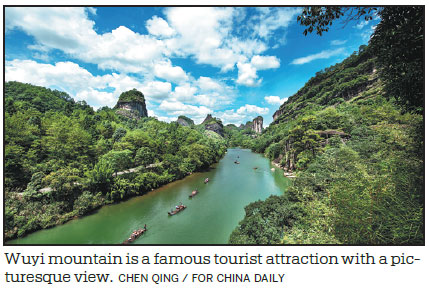 (China Daily 09/17/2019 page12)