Preserving Quxi pays off for town's local residents
Residents in Quxi town, Liancheng county, Fujian province see a rise in their annual incomes, thanks to the local government's efforts to enhance conservation of rivers, farmlands and forests.
The conservation will leverage ecological advantages to boost environmentally friendly industries, an official said.
"Ecology is Liancheng's advantage to realize high-quality development," said Zhong Yongqiang, the county's Party secretary. "We stick to the conviction that lucid waters and lush mountains are invaluable assets."
Quxi is the largest production base of moso bamboo in Liancheng. In the past, farmers relied on chemical fertilizers and pesticides during planting, which caused environmental contamination.
"We have encouraged farmers to replace chemical fertilizers with organic fertilizers, and to resort to biological and physical means rather than pesticides to plant and manage moso bamboo," said Deng Xinyuan, head of the town.
All villages under the administration of Quxi signed a letter of commitment to forbid herbicides in hopes of better protecting water and the living environment. The town has ramped up its support of ecological agriculture and helped villagers to grow pears, horned melon, yacon and plums, which increased last year's per capita income by more than 5,000 yuan ($702).
By participating in the construction of Meihua Mountain Scenic Area-related projects, Quxi also enjoyed rapid development in its rural tourism sector.
It has encouraged villagers to plant and sell organic agricultural products, and run nongjiale, or farm homestays, where tourists can eat locally produced food and experience a more rural lifestyle.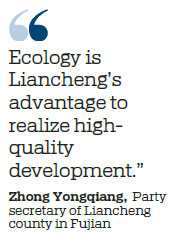 Puxi village, for example, is a popular rural tourist destination due to an ecological forest park covering an area of about 8,000 square meters. Although the park is not significantly large in area, it has various kinds of old trees and many wild animals. The village's farm homestays become bustling at holidays.
In 2018, Quxi accepted 45,000 tourist visits and generated total tourism revenue of 5 million yuan, up 15 percent year-on-year.
Putian, a coastal city in central Fujian, also achieved remarkable progress in ecological protection. It has won many honorary titles such as a city of parks, a city of forests and an ecological civilization city in water systems.
The Mulan River is the "mother river" of Putian, but also made the city the site of devastating floods in the 1990s.
But now, Mulan has become China's first river to be managed by a comprehensive plan that covers its entire watersheds. The flood control system on the river has also become one of the successful ecological projects in Putian.
In 2012, a national Mulan River water source conservation area was built in Xianyou county, a mountainous region located in the upstream of the river. The 18,025-hectare area aims to mainly protect the forest ecosystems and rare and endangered species of wild fauna and flora.
To ensure water purity, Putian has become the first area in Fujian to prohibit building livestock and poultry farms near water sources. Authorities have drawn lines in the banks of the Mulan River's main stream and tributaries to reconstruct vacated land and develop the forest economy and other services.
As for livelihood projects, Putian now has more than 100 greenways along rivers, parks and mountains, offering residents great places to explore and relax.
haonan@chinadaily.com.cn
(China Daily 09/17/2019 page12)