Hunan's rich culture, picturesque natural beauty a draw for visitors
Known for its natural beauty and abundant tourism resources, Hunan is becoming one of the most popular tourism destinations nationwide and attracting visitors from around the world.
The province in Central China is rich in cultural and natural heritage sites. They include Fenghuang Gucheng, or Phoenix ancient town, which is among China's most beautiful ancient towns; Hengshan Mountain, one of the five most renowned mountains in the country; Yueyang Tower, depicted in a well-known Song Dynasty (960-1279) essay; and Yuelu Academy, one of the four major private institutions of higher education during the Song Dynasty, among others.
The Yuelu Academy has served as an institute for higher education since its establishment in 976.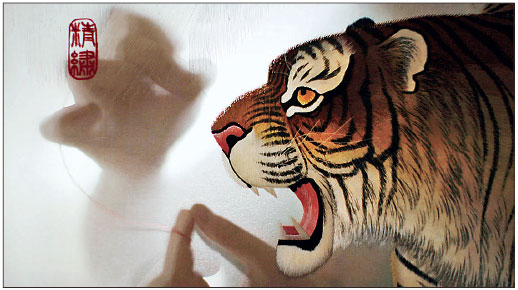 Xiang Embroidery, named after the abbreviation of the province's name, is among the top four Chinese embroidery types. Provided to China Daily
The academy on the western bank of the Xiangjiang River, has been an educational institution for more than 1,000 years. It focuses on Confucian education and is said to be the oldest academy of its type still in existence in the world. The school evolved into the Hunan Institute of Higher Learning in 1903 and is now part of Hunan University.
In recent years, the province has expanded tourism development and made efforts to improve its infrastructure and attract more visitors from home and abroad.
According to the Hunan Provincial Department of Culture and Tourism, the province received 753 million visits last year, up 12.5 percent year-on-year. The revenue generated by the tourism industry grew 16.5 percent to 835.6 billion yuan ($116.7 billion) last year.
The added value of tourism in Hunan reached 233.1 billion yuan last year, accounting for 6.12 percent of the province's GDP.
Last year, the province was listed as one of the world's "top 10 best-value destinations to tempt frugal travelers" by Lonely Planet, a leading travel guide publisher. The Lonely Planet guide book cites Zhangjiajie for its "amazing sandstone canyon with almost 250 bizarrely shaped peaks" and "the world's longest glass bridge opened in 2016".
Located in northwestern Hunan province, Zhangjiajie, a 5A-rated national scenic spot, is famous worldwide for its cragged peaks, charmingly grotesque rocks, deep valleys, beautiful streams and karst caves.
The main draw of Zhangjiajie is the Wulingyuan Scenic Area and other popular spots in the Zhangjiajie National Forest Park including the Suoxi Valley, Tianzi Mountain and Baofeng Lake.
The park became the first national forest park in China in 1982 and was listed among the UNESCO World Heritage in 1992.
Another 5A-rated tourism site in Hunan is Langshan Mountain, well-known for its unique Danxia landform, which literally means crimson glow.
The landform is a rare topographic feature in geography worldwide. The huge rocks of dark red color with grotesque shapes offer tourists a marvelous view.
Covering an area of 108 square kilometers, Langshan Mountain is abundant in tourism resources. There are more than 500 scenic spots on the mountain. Among the most famous are the Tianyi Lane, Chili Peak, Zixia Cave, Fuyi River, Tiansheng Bridge, Octagonal Castle, Emperor Shun Forest Park and Xicun Ancient Dwelling.
The mountain was listed as a world heritage site in 2010.
According to local statistics, there are nine 5A-rated and 104 4A-rated tourism sites in Hunan. The province plans to build another 20 4A- and 5A-rated cultural tourism scenic spots, 30 cultural tourism industrial parks and 100 cultural tourism towns as well as 50 cultural tourism projects with 1 billion yuan investment in the next three years.
Dongting Lake, the second-largest fresh lake in China, which is connected to the Yangtze River, sits across Hunan and Hubei provinces. The majority of its area is in Hunan.
The lake area has long been known as a key agricultural production center in the country. It also has rich cultural heritage sites including Yueyang Tower and boasts a wide diversity of birds.
On an inspection tour of the lake in October 2017, Du Jiahao, Party secretary of Hunan province, called on local authorities to improve environmental protection.
Among local environmental campaigners was Yu Yuanjun, who worked as chief engineer at the Dongting Lake irrigation administration in Hunan.
Over the past 25 years, Yu covered more than 3,470 kilometers of dams at hundreds of irrigation project sites at Dongting Lake, earning a reputation as a walking encyclopaedia of irrigation projects in the lake area, before he died in June. After his death, he was honored the title of a model government worker for his devotion to his work.
Hunan people's environmental efforts have paid off. Chen Jianxiang, an official at the Changjiang Water Resources Commission, praised the restored ecosystem of the lake area.
To date, the province's forest coverage has reached 58.92 percent, ranking sixth nationwide. Of 14 cities across the province, nine have won the honor of national forest city.
caoyingying@chinadaily.com.cn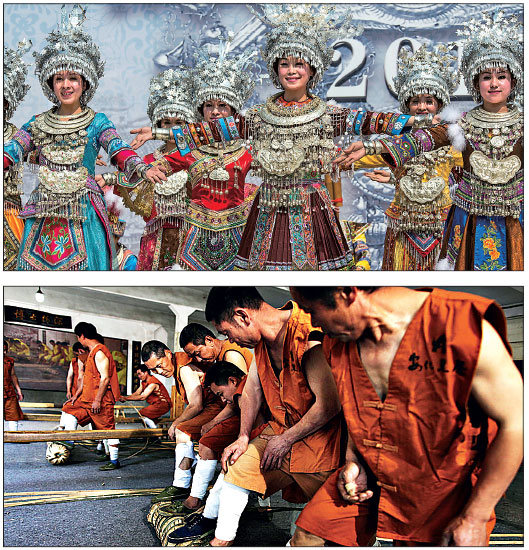 Top: Silver accessories are part of the traditional costumes of the Miao people, an ethnic group living in Hunan province. Above: Workers use a traditional method to produce black tea in Anhua county, Hunan province. Photos Provided to China Daily