Xiamen shines with impressive performance
With constant efforts to build itself into an international city, Xiamen in Fujian province has made progress in its economic growth and international exchanges.
"Xiamen's achievements in its development can be credited to its high-quality economic growth, city construction, high-end industrial structures, high-level opening-up, infrastructure construction and improved livelihoods," said Zhuang Jiahan, mayor of Xiamen.
Official data showed that the city's GDP reached 479.14 billion yuan ($67.2 billion) in 2018, with an average annual growth rate of 15.4 percent. By comparison, the city's GDP stood at 480 million yuan in 1978.
In 2018, Xiamen's total economic output reached more than 470 billion yuan. Its fiscal revenue accounted for 25 percent of that of Fujian province, making it the only city that topped 100 billion yuan in the province.
It has shifted from traditional industries in the early period of reform and opening-up to concentrate on modern industries, such as biological medicine and ocean technology, local officials said.
To date, Xiamen has 1,626 national-level high-tech companies. It built the first innovation and entrepreneurship base for technological talent and was named a pilot city for these bases for small businesses in 2015.
In recent years, Xiamen has become home to more than 2,000 high-tech companies that feature high-potential, Zhuang said. He added that the city has been striving to build itself into a high-quality city for innovation and entrepreneurship by promoting industrial transformation and developing an economy that drives new technologies, industries, patterns and business models.
Xiamen has seen rapid development in the software sector. Emerging industries including new material, biological medicine and semiconductors and integrated circuits have maintained double-digit growth over the past few years, Zhuang said.
"We have focused on promoting the development of high-end industries and enhancing the quality and efficiency of modern services. At the same time we've given up polluted and energy-consuming companies as well as extensive industries," he said.
In addition to economic growth, the coastal city has also expanded its influence in transport and international connectivity.
As of 2018, the seaport had launched 143 routes to 168 cities worldwide, with container throughput ranking 14th in the world. The Xiamen Air Harbor currently has 171 flight routes, including 35 international routes.
International freight trains from China (Xiamen) to Europe have reached 34 cities in 12 countries, promoting the city's role in the Belt and Road Initiative.
The city has also held several international events, including the annual Xiamen International Fashion Week, the BRICS Summit and the Xiamen International Marathon.
Major international events and platforms in Xiamen give the city an edge to attract personnel and technology, the city's mayor said.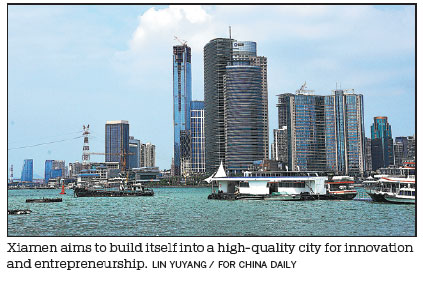 (China Daily 09/10/2019 page24)