BRI enters new stage of rapid progress
Countries advised to also observe potential challenges, including cultural differences
Since it was proposed six years ago, the Belt and Road Initiative has entered a new stage of rapid progress that will greatly emphasize quality, said Chen Jian, a member of the National Committee of the Chinese People's Political Consultative Conference, China's top political advisory body, and a former vice minister of commerce.
"The cooperation between China and the countries taking part in the initiative has gained big achievement that leads to fast economic growth amid the global downturn, which proves it's a positive development model with great prospect," Chen said.
He made the remarks at a forum focusing on BRI development at the China International Fair for Investment and Trade 2019 in Xiamen, East China's Fujian province. The fair runs from Sunday to Wednesday.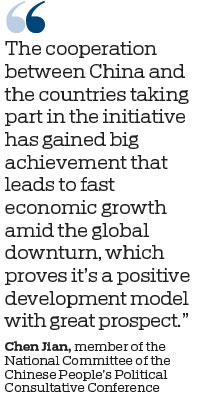 He also pointed out a couple of problems that might hinder the healthy development of the investment projects.
Monotonous cooperative ways and financing methods, outdated policies, hidden problems and cultural challenges could throw a wrench in cooperation plans.
"The financing mainly depends on bank loans, but it is unsustainable," Chen said.
"We must think about direct financing from the capital market and make the portion of direct financing and indirect financing reasonable.
"We should actively promote the globalization of technological cooperation because it's a natural result of globalized manufacturing," he added, "and carefully handle relations with the intellectual property protection."
Gao Jian, an economist and former vice-chairman of China Development Bank, said the elements of environment and culture should be given more consideration when investing in BRI participants.
"If an area has great tourism resources, the investment can be shifted to tourism facilities," he said.
China has strong research and development capability in new technologies, such as cloud computing, big data, blockchain and 5G, which can be widely applied in the countries and regions involved.
China can export the technological applications to smaller countries, which have strong demands for the products and can use them to benefit their people," Gao said.
chenhong@chinadaily.com.cn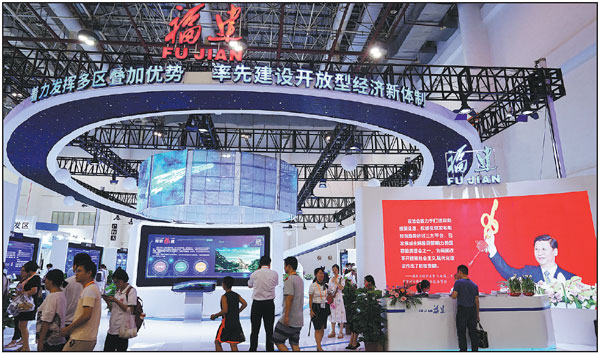 The booth of Fujian province at the China International Fair for Investment and Trade 2019 in Xiamen attracts many visitors. Photos by Lin Yuyang / For China Daily

From left: Visitors at the Belt and Road Agricultural Products and Materials EBusiness Trading Fair. An intelligent health detector robot is a highlight at the China International Fair for Investment and Trade 2019 in Xiamen.
(China Daily 09/10/2019 page24)