Global business leaders put artificial intelligence in focus
Artificial intelligence is a hot issue, business insiders from around the world said at a roundtable conference during the China International Fair for Investment and Trade 2019 held in Xiamen, Fujian province on Saturday.
Revolving around the theme of "AI changes the future", executives from AI companies, communication giants, as well as trade and investment promotion organizations discussed topics including the course of AI amid the global trade conflict and AI's application in the commercial sector.
Trade frictions and protectionism are both short-term phenomena because they do not conform to the global tendency of free trade, said Mehran Eftekhar, member of the board of directors at the World Trade Center Cyprus.
With breakthroughs in key technologies such as mobile internet, cloud computing and the internet of things, the AI industry is becoming the driving force of technological revolution and industrial change, Eftekhar said.
The WTC will promote the cooperation of AI around the world, he said.
Xiao Lihua, vice-president of Alibaba, said that the tech giant has adopted frontier technologies of big data and AI to observe and meet consumers' demands. The practice has helped the company upgrade its brand, supply chain and distribution channels, and integrate the online and offline service, Xiao said.
Guillaume Jinkoji, senior project manager of Nord France Invest, an investment promotion agency for the Hauts-de-France region, said that AI would play a big role in commercial market, especially for the new industrial retail and logistics sectors.
Chinese enterprises have rich experience in the fields of mobile payment, mobile internet, cloud computing and the internet of things, Jinkoji said.
He hopes to hold more exchanges to promote Chinese companies and the continued development of the AI industry, he said.
During the conference, organizers also launched a promotion where more than 60 traditional manufacturers communicated with technological companies.
The promotion is part of the host city's efforts to use its AI and innovation resources, attract more companies to know about AI, and to help set up a platform for the AI industry, organizers said.
liangkaiyan@chinadaiily.com.cn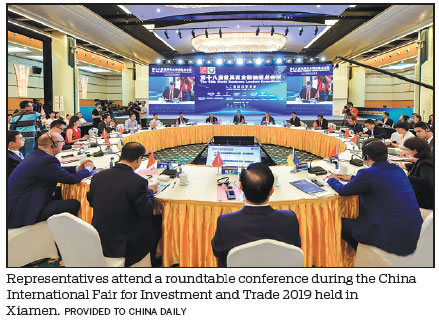 (China Daily 09/10/2019 page24)