Silk Road maritime project strengthens trade ties
Fujian province in East China is building a more efficient and less-costly shipping transportation platform to strengthen trade ties among countries and regions along the 21st Century Maritime Silk Road.
The province launched its Silk Road Maritime project in December 2018 in Xiamen, which has opened 50 routes providing nearly 1,100 shipping services so far this year, handling a total container throughput of 927,000 twenty-foot equivalent units, according to official figures.
Meanwhile, more than 100 entities, including shipping companies, logistics companies, trade and manufacturing companies, research institutes and industrial associations, have joined the alliance centering on the project.
"The Silk Road Maritime project has been working as a link between the Chinese economy and the global economy, and has demonstrated huge potential and presents a good future," said Yu Weiguo, Party secretary of Fujian.
He made the remarks at the recent Silk Road Maritime International Cooperation Forum, one of the major events of the China International Fair for Investment and Trade 2019, with a theme of sharing the prosperity through cooperation and connectivity.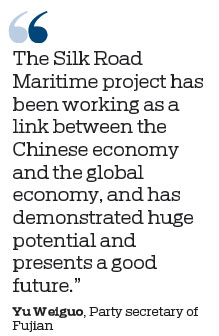 "The project is believed to serve as a new driving force, develop new momentum and foster new business patterns for the exchange and cooperation among countries and regions along the Maritime Silk Road, which will lead to better connectivity," Yu said.
He noted that the project still has room to improve in terms of cost reduction, quality and efficiency, customs clearance and the automation and intellectualization of management systems.
He encouraged operators to provide more solutions to link shipping services with road and rail to further extend the network.
Tim Smith, vice-president of Maersk, a world leader in container logistics, said that developing emerging markets in Africa, Southeast Asia and Latin American is critically important at a time that the exports from the United States and Europe are weak.
Once the bottleneck of transportation can be solved, the countries and regions involved in the Belt and Road Initiative will witness a robust growth in trade, said Smith.
He noted that shipping companies, port operators and logistics companies can all benefit from taking part in the BRI through, for example, investing in new ports and providing new inland services, and offering new shipping lines and services. The first blue paper on the Silk Road Maritime project was issued on Saturday afternoon, revealing the project is helping Fujian build a new ocean logistics passageway that can lead coastal areas, radiate its influence to inland cities and serve countries and regions along the Maritime Silk Road.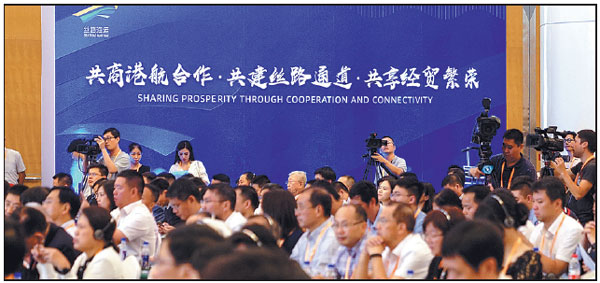 The Silk Road Maritime International Cooperation Forum in Xiamen focuses on themes such as sharing economy and cooperation.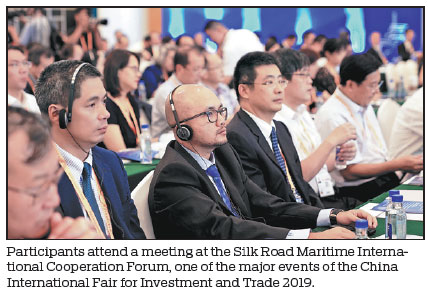 (China Daily 09/09/2019 page12)