Officials encourage wider opening-up at Xiamen expo
Governments should give up protectionism, unilateralism and populism in favor of restoring trust and cooperation in trade for the revitalization of the global economy, said officials and entrepreneurs attending the China International Fair for Investment and Trade 2019 in Xiamen, East China's Fujian province.
Rasim Ljajic, deputy prime minister of Serbia, said populism has been a rising problem that worsens relations between some countries and hurts global trade, which could be cut by 9 percent next year if the trade war carries on.
Ljajic made a keynote speech for the international investment forum of the fair, shortly after the opening ceremony on Sunday, which focused on promoting open integrated development and facilitating bilateral investment. He said China's Belt and Road Initiative is very important to ease the tension, improve competitiveness among countries and create rising opportunities, in which Serbia supports.
Beside cooperation in infrastructures, Ljajic said the digitalization development will provide opportunities for the developing countries to catch up with the developed countries in the fourth industrial revolution.
Chinese technology giant Huawei has worked with some Serbian companies on an optical fiber project, which is expected to improve the country's telecommunication network, he said.
Carlos M. Gutierrez, chairman of Albright Stonebridge, a global strategy firm, and a former secretary of commerce of the United States, said trade tensions between the US and China are bringing uncertainty not only to these two countries, but to the whole world, which will be adverse to the investment flow.
He noted that China continues to make investment in the developing countries with BRI, keeps opening-up and reducing barriers to the investment flow, which are critically important to the consistent development of the country and the world economy.
Essam Abdel-Aziz Sharaf, former prime minister of Egypt, said countries are becoming more interdependent with one another, and should work together for a shared future. He said BRI is a platform for international cooperation that is to build common responsibility, peace, trust, projects and development.
chenhong@chinadaily.com.cn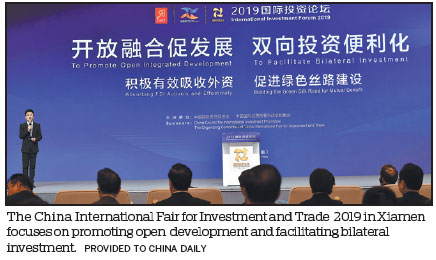 (China Daily 09/09/2019 page12)