Xiamen builds the safest city
Xiamen placed second on the list of the top 10 world holiday destinations in 2019 released by Austria Daily ("oe24 STTEREICH" in the local language), the only Chinese city on the list.
Safety is the first concern of travelers. The safety index of Xiamen people has reached 98.91 percent, ranking first in the province and setting a new record. The city's criminal cases in 2018 dropped 23.79 percent below those of 2017, which was a year-on-year reduction of 42 percent and the lowest figure in 10 years.
Chen Qingzhou, a police officer of the Xiamen municipal public security bureau in Fujian province, changed the backward traffic in a rural township within three years, helped find more than 300 missing people in five years and even insisted on giving 19 lectures in 21 days on how to prevent fraud.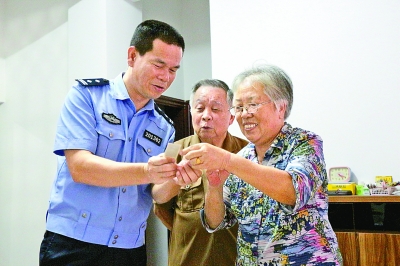 Chen Qingzhou teaches the elderly how to prevent fraud. [Photo provided by the Xiamen municipal public security bureau]
"See the great in the ordinary post, show the noble in the simple, and see the truth in the subtle" is the spirit of Xiamen's police.
"To build the most secure city" has been written into the municipal government work report for many years. There are hundreds of events held in the city, such as the China International Fair for Investment and Trade and Straits Forum. Xiamen reached the goal of "absolute safety" in the BRICS National Summit in 2017 with its solid achievements in building peace and security, winning praise from domestic and international guests.