Siming posts 7.2% growth in GDP in H1
The GDP in Siming district in Xiamen, East China's Fujian province grew 7.2 percent year-on-year to 69.9 billion yuan ($9.79 billion) in the first half of 2019, according to a press conference on Aug 23.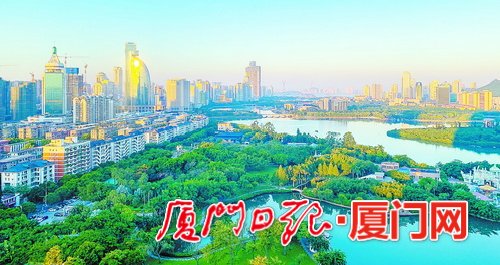 Xiamen's Siming district [Photo Wang Huoyan/xmnn.cn]
Its GDP ranked third among counties (cities or districts) in the province and accounted for 30 percent of Xiamen's total GDP. The district's total fiscal revenue grew by 12.87 percent in H1 to 15.88 billion yuan, ranking first in Fujian province, and its fixed-asset investment saw an increase of 12.1 percent year-on-year.
In recent years, Siming has focused on rapid, high-quality development. A total of 75 Siming-headquartered enterprises recorded tax revenue of 2.22 billion yuan, and the revenue of the software and information industry was 11.29 billion yuan. The district has introduced 13 TV and film projects with a registered capital above 5 million yuan. At the same time, its tourism industry continued to boom in H1, bringing in total revenue of 53 billion yuan.
Sixty key projects attracted an investment of 3.35 billion yuan in H1, with a completion rate of 114 percent. 119 high-tech enterprises were certified by the local government, which invested 200 million yuan into sci-tech innovation and tech research and development. Siming also offered more than 50 million yuan to high-level talents in the first six months of the year.
The district saw an improvement in its ecological environment and people's livelihoods. The rate of good air quality was 99.4 percent, and its comprehensive index of air quality was 2.75. Meanwhile, a total of 27.04 million yuan was allocated in the form of subsistence allowances to households enjoying the minimum living guarantee. More than 23,000 jobs were provided to unemployed residents. The public service sector saw significant improvement, with a large number of schools being constructed and rebuilt. The public safety rate in Siming topped Xiamen in H1.
The local government also made a development plan for the second half of the year. It plans to accelerate urban renewal in old towns. The government will focus on the development of its 10 key industries, promote the construction of public cloud service platforms, and push forward the industrial distribution of emerging industries such as artificial intelligence, and commercial use of 5G.
In the first half of the year, Siming attracted 1,730 projects with a total investment of 42 billion yuan. The district will continue to step up efforts to attract outside investment from World Top 500 and large-scale enterprises, and bring in more high-tech enterprises.
The film and television industry will be promoted, and a wide range of film festivals and activities will be planned to promote the cluster development of the film industry. The government will also release favorable policies, and set up a film and television base to stimulate the film and television industry.
The ecological environment will be further improved, including the upgrading and reconstruction of underground drainage systems and public toilets. Fragile ecological areas such as Dongpingshan Park will be renovated, and strict environmental protection measures will be applied to strengthen supervision.