Siming sees China's first 5G+VR court trial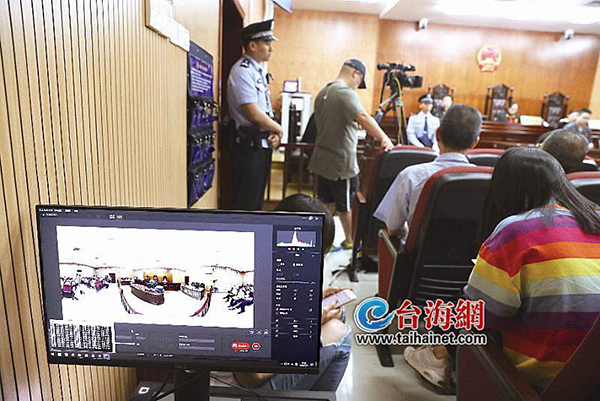 A trial is broadcast live via 5G network at Xiamen's Siming district, eastern Fujian province, June 21. [Photo/taihainet.com]
An unprecedented court trial took place in Xiamen's Siming district, eastern Fujian province, June 21.
It was the first time in China that 5G+VR technology was used for a court trial live broadcast via omnimedia. More than 100 media participated in the whole process, and 12 million audited netizens watched the panoramic video on their mobile phones.
VR cameras were set at the court to capture 360-degree images of the scene. The images were uploaded to the internet through the 5G network.
"5G network features large bandwidth, low delays and large capacity. Compared with 4G live broadcasts, the images have higher definition and are more synchronous," said a reporter who witnessed the trial.
Xiamen is one of the country's first cities to carry out 5G services, and Siming's court has achieved full 5G coverage.
With the help of technology, Siming's court has realized online services for filing cases, trials, executions, petitions, mediation and judicial openness, according to Liu Xinping, chief justice of the court.
"With the popularization and application of 5G technology, the construction of smart courts will step up to a new level for sure," said Liu.