Knowledge City becoming highland for biopharmaceuticals sector in Bay Area
The China-Singapore Guangzhou Knowledge City, a State-level project between the two countries, is raising efforts to grow in the Guangdong-Hong Kong-Macao Greater Bay Area.
The demonstration zone, featuring a world-class knowledge city, global talent pool and outstanding source of innovation, echoes many of the themes at the G20 Summit that opened today in Osaka, Japan.
Located in the east of Guangzhou, capital of Guangdong province, the CSGKC was founded in 2010.
In 2018, the Chinese and Singaporean governments signed a framework agreement to upgrade the CSGKC to a State-level bilateral project. This will strengthen the cooperation in technological innovation, high-end manufacturing, intellectual property protection and personnel training.
Both governments vowed to make the CSGKC into a new bilateral cooperation benchmark.
"The CSGKC is a project with forward-looking visions, which provides support to Guangdong province and the Guangdong-Hong Kong-Macao Greater Bay Area. It is an important platform to deepen cooperation between China and Singapore," noted Heng Swee Keat, Singapore's deputy prime minister and finance minister, when he and his team visited CSGKC in May.
With joint effort, the CSGKC maintains growth and embodies ecological protection. The combination will attract professionals, he added.
Greeting Heng's delegation, Zhang Shuofu, Party secretary of Guangzhou, said that the two sides will deepen cooperation in scientific innovation, emerging industries, education, culture and ecological environment. They will also promote the collaboration of industries and smart cities, to build the CSGKC into a highland of knowledge innovation.
Designated as a major innovation platform in the Bay Area, the CSGKC has gained much development in nine years.
According to official statistics, the CSGKC has attracted 1,524 companies with registered capital totaling 133.4 billion yuan ($19.39 billion). It also completed investments in fixed assets worth 106.2 billion yuan.
Among them are CanSemi Technology, a 12-inch wafer chip supplier to be operational soon, equipment manufacturer Greatoo Intelligent Equipment, biopharmaceuticals company BeiGene and other big names.
Collectively, they have launched 165 projects - 48 of which are under construction - with a total investment of 77 billion yuan.
Cooperation with international companies is boosting the development of the biomedicine industry in the CSGKC.
Earlier this month, the CSGKC administrative committee signed an agreement with Tessa Therapeutics in Singapore for the latter to set up its China pharmaceuticals headquarters. The agreement focuses on the research and development, production and sales of innovative immunotherapy.
Tessa will invest $120 million in the project. They will set up teams to launch clinical tests and strengthen the biomedical innovation chain in Guangzhou, according to Andrew Khoo, co-founder and CEO of Tessa.
Khoo said that they were invited to Guangzhou in January and it only took four months to reach an official agreement with the CSGKC administrative committee.
Biopharmaceuticals company InnoCare entered the CSGKC last year. Its founder and CEO, Cui Jisong, said the company will set up a production base in the CSGKC. Their first independent patented new drug will hit the market by 2020 with an estimated sales value of 10 billion yuan.
Meanwhile, a General Electric bio-campus and an oncotherapy medicine manufacturing center of the international pharma company BeiGene will finish construction in the CSGKC this year. It will lead a new stage of development for the knowledge city.
Liu Jian, senior vice-president of BeiGene, said that the production center started construction in 2017. It is expected to begin operating in the third quarter of 2019, with a production capacity of 24,000 liters of biological agent.
The CSGKC is also designated as a State-level pilot zone for the comprehensive reform of IP use and protection by the State Council. It has attracted the Patent Examination Cooperation Center of the National Intellectual Property Administration in Guangdong to settle in CSGKC. They are an important partner to build a whole IP chain in the area.
The center assesses patent invention applications, searches international patents and international preliminary applications under the Patent Cooperation Treaty. It has processed 706,000 patent filings to date.
The center can handle more than 150,000 filings every year, covering machinery, electricity, communication, medicine, chemistry, optoelectronics and materials sectors.
Qiu Jiangwen, deputy director of the center, said it will participate in the Bay Area's IP cooperation mechanism and promote the IP culture through various activities.
The local government is striving to improve the local investment environment with better policies, infrastructure and public facilities.
Among them, the local government will provide housing and rent subsidies for professionals working in the CSGKC.
The government will also launch a batch of public facilities including an international conference center, sports center, neighborhood center, library and museum that meet international standards.
Infrastructure projects including eight railways, five expressways and seven urban expressways are under construction and a new metro line is scheduled for operation in late September.
An intercity light rail is also slated to be put into service next year. By then, travel time from the CSGKC to other cities in the Bay Area is expected to be reduced to within an hour.
In addition, a high-speed rail station and convenient traffic routes to the airport, railway stations and the port of Guangzhou are planned.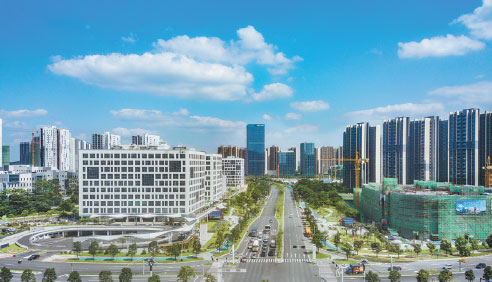 The China-Singapore Guangzhou Knowledge City, an international cooperation project, plays an important role in the Guangdong-Hong Kong-Macao Greater Bay Area.Photos Provided To China Daily