Simplicity in procedures key to success
Ningbo Customs has implemented a series of measures to simplify customs procedures in recent years, paving the way for economic and trade development between China and Central and Eastern European countries.
One such measure has been going paperless, which has saved both time and money, according to Ningbo Customs.
"We are exploring the market in Central and Eastern Europe, so it is very important for us to fulfill orders on time," said a manager surnamed Yang from Anhui Sentai WPC Rosenthal Group.
"Online customs procedures enable us to enjoy the convenience of customs clearance at anytime and anywhere."
According to Ningbo Customs, more than 95 percent of its customs procedures, such as declaration and clearance, are processed online, instead of using paper. It means that these processes have been reduced to mere minutes and seconds.
The efficient customs procedures have helped increase growth in imports and exports, and have created a new competitive advantage for Ningbo Port, Ningbo Customs said.
Goods declaration in advance of arrival at the port is another measure launched by Ningbo Customs.
Under such a measure, traders, with the name, specifications and quantity of the goods on board, are able to go through customs declaration at sea, before arrival at the port or within three days before the export goods arrive at the places under customs supervision.
This effectively reduces the time it takes to dock a cargo ship and saves a lot in costs too, the official said.
"Waiting time is reduced and the supervision work is also moved forward, which is conducive to preventing any risks," said Wu Zefeng, an official at Ningbo Customs.
"We work with relevant enterprises in advance, provide customs clearance guidance and policy explanations, and provide high-quality customs services for importing goods from Central and Eastern Europe," Wu said.
The program Authorized Economic Operator, known as AEO, has also speeded exports of Ningbo-manufactured goods to Central and Eastern Europe.
The AEO certification program was advocated by the World Customs Organization to strengthen the partnership between customs and industry, reduce barriers to customs procedures and enhance international trade efficiency.
"Thanks to the great support of Ningbo Customs, our company gained AEO certification and we have received preferential treatment in the trade with Central and Eastern European countries," said Xu Pengfei, president of Ningbo Jinding Fastening Piece, an industry leader producing a variety of products including nuts, bolts and screws.
Ningbo is home to a large number of fastener manufacturing enterprises, and in recent years the city has sought cooperation with the Czech Republic, Romania and other mechanical products manufacturing powers in Central and Eastern Europe.
In the first months this year, Ningbo's fastener product exports to Central and Eastern European countries amounted to 65 million yuan ($9.41 million), an increase of 63 percent on the same period in 2018, according to Ningbo Customs.
To support local fastener product manufacturers to export products to Central and Eastern European countries, Zhenhai Customs House, under the administration of Ningbo Customs, has released a series of measures, such as priority for customs procedures, simplifying document auditing, reducing import and export inspection and establishing full-time coordinators.
From January to April this year, the export volume of fasteners of Ningbo Jinding Fastening Piece to Central and Eastern European countries increased by 1.7 times over the same period last year.
Ningbo Customs is also providing support for the rapid development of export enterprises in areas such as applications for certificates of origin, classification management of enterprise credit rating and diversified customs tax guarantees.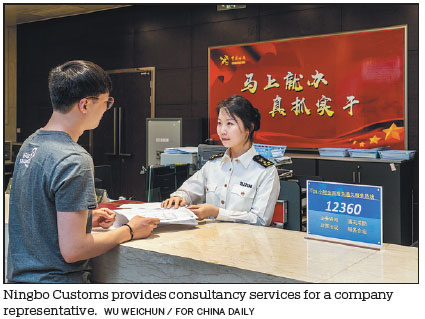 (China Daily 06/06/2019 page15)