A pilot platform for intl operation of SIPOP opens in Shanghai
The pilot (Shanghai) platform for the international operation of the State Intellectual Property Operation Public Service Platform (SIPOP) passed the inspection by the National Intellectual Property Administration on April 22 and became operational, according to the municipal government press conference on April 23.
An integrated trading platform website, Zhong Zhi Lu (www.sinoip.net), has also been built for the international operation platform for online purchase of intellectual property projects.
The pilot platform in Shanghai is an important department of the state intellectual property rights (IPR) operation public service system, as well as a significant infrastructure of the Shanghai Technology Innovation Center, said Rui Wenbiao, director of the Shanghai Intellectual Property Administration.
The platform is located in Zhangjiang International Talent Hub in Pudong New Area. It will realize IPR trading services, financial innovation, overseas layout and rights protection, as well as key industry operations and basic services.
The establishment of the international operation platform will promote the construction of the Shanghai international intellectual property operation alliance, which deepens the building of international cooperation networks and membership mechanisms and promotes the concentration of high-quality intellectual property education, information, arbitration, mediation, education, operation and other resources in Shanghai. It will also propel the foundation of a service network connecting universities, research institutes, enterprises, technology transfer institutions and related financial investment institutions. There have been more than 60 international organizations willing to join the Shanghai international intellectual property alliance.
The name for the integrated trading platform website, Zhong Zhi Lu, means exploring a new road for international IPR operations in China. "It is convenient to publish and purchase intellectual property projects through the website," said Rui. He hoped that the website will introduce some excellent foreign intellectual property rights to China, and serve enterprises in Shanghai and China.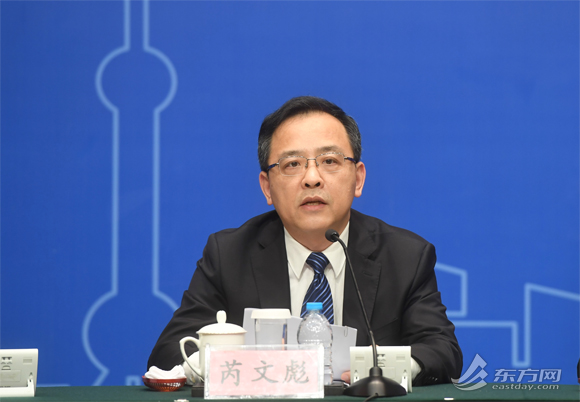 Rui Wenbiao, director of the Shanghai Intellectual Property Administration, introduces the pilot (Shanghai) platform for the international operation of SIPOP and the Zhong Zhi Lu website at the municipal government press conference on April 23, 2019. [Photo/eastday.com]