Shanghai FTZ to establish Yangtze River Delta IP cooperation alliance
Shanghai will further promote the integrative development of intellectual property services and set up a Yangtze River Delta intellectual property cooperation alliance in the Shanghai Free Trade Zone, according to a symposium held on April 17.
Shanghai deputies to the National People's Congress and members of the Shanghai CPPCC (Committee of the Chinese People's Political Consultative Conference) attended the symposium. The Shanghai intellectual property administration reported on progress in handling the proposals raised in the two sessions.
Base on the international operation of the State Intellectual Property Operation Public Service Platform (SIPOP) in Shanghai, the city plans to gather and integrate intellectual property resources such as transactions and services, gradually promoting their integration in the Yangtze River Delta region.
The pilot (Shanghai) platform for the international operation of SIPOP successfully passed review by the National Intellectual Property Administration on April 22 and became operational.
The next steps are to improve the intellectual property evaluation system, promote intellectual property financial product innovation, establish mechanisms of financing risk compensation and sharing for the intellectual property pledge and expand the financing channels of intellectual property for small and medium enterprises.
In addition, Shanghai will upgrade the service level of the national intellectual property protection center and strive to establish a city-wide service system for quick authorization and rapid rights confirmation and maintenance. It will also give full play to the role of the office of Shanghai trademark overseas rights protection, and improve the risk prevention and control ability for overseas intellectual property rights of innovative subjects.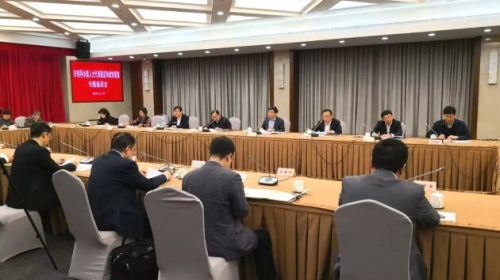 Shanghai holds a symposium on handling the proposals of deputies to the National People's Congress and members of the Shanghai CPPCC on April 17, 2019. [Photo/shzgh.org]