Intellectual property showcases for first time on China Brand Day
The intellectual property sub-forum of the 2019 international forum on China brand development took place at the Shanghai Exhibition Center on May 11, during the 2019 China Brand Day event.
More than 200 government officials, industry representatives, experts and scholars gathered in Shanghai to discuss trademarks, geographical indications and brands, all significant for promoting brand building with high-quality intellectual property protection.
It is urgent for geographical indication brands to take the lead in characteristic industries and transfer the natural and cultural resource superiorities of local features into actual productivity. The government should strengthen construction of an intellectual property operation system to bring into full play the combined benefits of patents, trademark, geographical indications and other types of intellectual property rights and link up the whole chain of creation, application, protection, management and service of intellectual property, according to an official of the IP Utilization and Promotion Department of the PRC's National Intellectual Property Administration.
The gold mango geographical indication products international expo started at the forum. Participants and leaders from intellectual property organs and units opened the declaration channel of the second geographical indication products international expo. The expo is meant to foster high-quality geographical indications, expand industries with distinctive features, and help precise poverty alleviation.
As parts of the forum, seven presentations were given to enhance the importance of management and application of intellectual property such as trademarks and geographical indications in poverty alleviation, rural revitalization and high-quality industrial development. Several leaders of cities and counties with representative industries held a roundtable panel discussion to tap the development potential of regional characteristic industries and explore the development path of enhancing regional geographical indications and trademarks.
The forum, as a first-time showcase for China Brand Day provides a brand display stage for intellectual property companies and promotes the transformation of intellectual property such as patents, trademarks and geographical indications into brands and industrial advantages.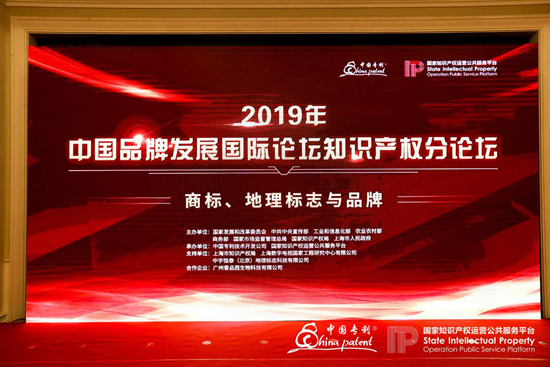 Shanghai holds the intellectual property sub-forum of the 2019 international forum on China brand development at Shanghai Exhibition Center on May 11, 2019. [Photo/WeChat account: Shanghai_IPA]