Measures taken to empower Yangtze River Delta IPR protection
Shanghai and provinces of the Yangtze River Delta region, including Jiangsu, Zhejiang and Anhui, will work together to strengthen intellectual property protection, according to the press conference on intellectual property development and protection in the Yangtze River Delta held on April 19 in Nanjing, Jiangsu province.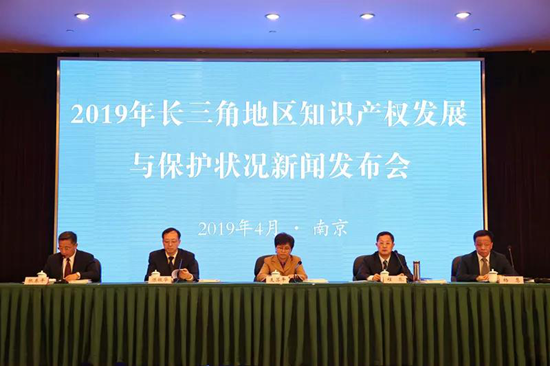 Officials responsible for intellectual property protection in Shanghai, Zhejiang and Anhui and a representative of the leading group supervising Jiangsu intellectual property and trademark strategy implementation hold a press conference on Yangtze River Delta intellectual property development in Nanjing on April 19, 2019. [Photo/WeChat account: Shanghai_IPA]
The three provinces and Shanghai signed a letter of intent on optimizing the intellectual property business environment in the Yangtze River Delta region. Together they will set up an intellectual property protection and cooperation mechanism and an intellectual property service system for the Yangtze River Delta region to bolster its overseas resource sharing of intellectual property.
"Strengthening intellectual property protection is a prominent task in intellectual property work and a common need for economic and social development in the Yangtze River Delta region, as well as a significant topic to discuss for Shanghai and Zhejiang, Anhui and Jiangsu provinces," said Yang Hui, member of the Party Leadership Group of the Shanghai Intellectual Property Administration. She added that the next step is to further strengthen cooperation between the intellectual property administrative departments of Shanghai, Zhejiang, Anhui and Jiangsu provinces, transforming cooperation intentions into specific measures, cooperation mechanisms and operational cooperation projects.
Shanghai and Zhejiang, Anhui and Jiangsu provinces also released their white papers on the intellectual property development in 2018 at the press conference.