Role models with disabiliteis, their oustanding supporters visit Peking University, Tsinghua University, and Renmin University
The 6th national conference for the commendation of role models of with disablities and people who have made oustanding contribution in helping the people with disabilities was held in Beijing on May 16.
On the afternoon of the same day, the representatives of role models with disabilites and outstanding people in helping the disabled visited Tsinghua University, Peking University, and Renmin University of China, and met with teachers and students there, as well as journalists to discuss the disability undertaking.
Tsinghua University: Self-Discipline and Social Commitment
At Tsinghua University, teachers and students met with three national role models, including the first blind massager in Wuxi, Jiangsu province, to receive a college diploma, the one with physical disability who successfully lifted hundreds of disabled people out of poverty, and a coach of China's Wheelchair Curling Team who helped win China's first Paralympic Winter Games gold medal ever.
Touched by the inspiring stories of the three, teachers and students agreed that it's a very precious opportunity for them to have face-to-face communications with the models. Just like the motto of Tsinghua University, Self-Discipline and Social Committment, their spirit of self-discipline deserves our respect and encourage us to learn from them, they said.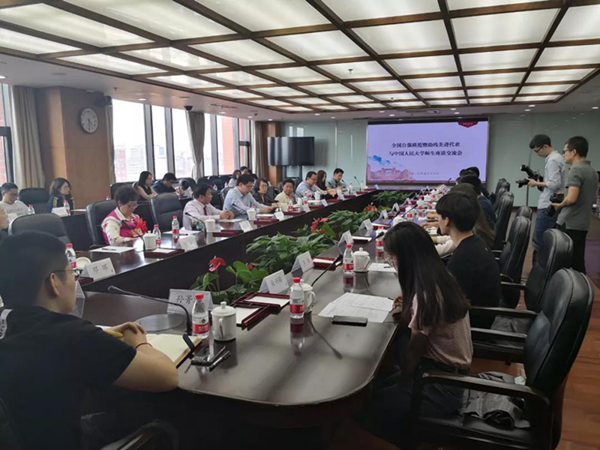 National role models visit Tsinghua University. [photo/cdpf.org.cn]
Guided by the idea of educating people by virtue, Tsinghua University tells students to embrace the future with youth and ideals, and record their lives with devotion and progress. Students have always been concerned about the fate of the country. As a staunch supporter of the future of people with disabilities, Tsinghua university has completed pioneering work in disablity cause, especially in accessibility research.
Peking University: Ensuring Quality and Pursuing Excellence
Since 1993, Peking University has taken the lead in volunteer work in colleges and universities, carrying out volunteer service in a down-to-earth manner and doing numerous good deeds for the society. Peking University has also been engaged in the development of the programs for the people with disabilities.
China Disabled Persons' Federation(CDPF) and Peking University jointly established the Peking University China Disability and Development Research Center in 2008, which is the first national disability research institute in China, playing a positive role in promoting the development of the cause for people with disabilities.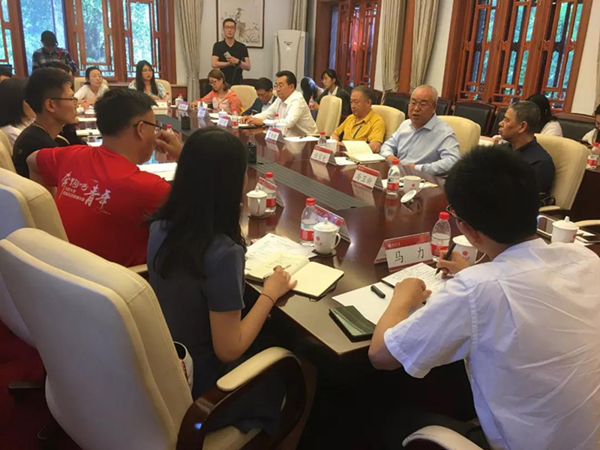 National role models with disablities visit Peking University. [photo/cdpf.org.cn]
The respresentatives met with teachers and students at Peking University, and three of them shared their stories.
Mountaineer Xia Boyu with artificial limbs shared his story of climbing up the world's highest mountain Qomolangma, also known as Mount Everest, in a snowstorm after four failed attempts and 43 years' efforts. The unforgettable story impressed students and teachers who sincerely said that "Xia's spirit to fight and overcome difficulteis is worth learning for each of us".
Ren Baocang studies the region to the west of the Yellow River and popularizes the knowledge of green technology of prevention and control. His devotion to studying agricultural technologies, learning about the law of diseases and pests, and even more, putting the precise poverty alleviation into action immediately intensified the students' determination to apply knowledge into reality.
Wang Zhanhong recollected that he was an "iron man" from a farmer family and firmly believed that the most important thing is to be a good man, and knowledge and education is necessary in poverty alleviation. It's exactly the positive energy of Wang that inspired all the attendees. Peking University's faculty and students said they will bear more social responsibility and care for people with disabilities, and contribute to the development of the undertaking for people with disabilities.
Renmin University of China: showingspirit of dedication, progressing with the society.
Renmin University of China, as one of the earliest universities to establish research institutes for disability, has achieved a lot with regard to the research and publicity for the undertakings for people with disabilities. For decades, the univeristy and its students have been adhering to the volunteer service goal of " showing spirit of dedication, progressing with the society". As a result, Renmin University of China has its own system for social public welfare and voluntary service.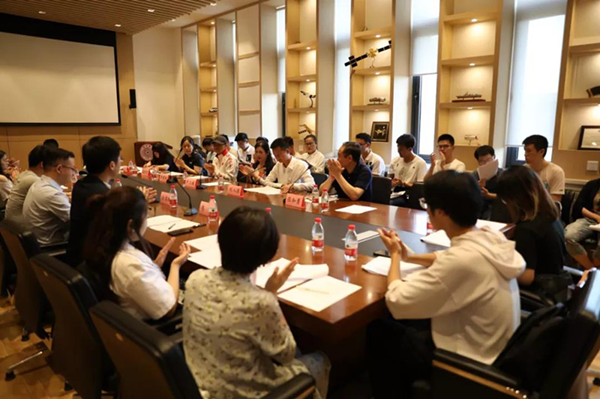 National role models with disabilities visit Renmin University of China. [photo/cdpf.org.cn]
With the motto of "Seeking Truth from Facts" deeply in minds, the university's students warmly welcomed the arrival of the national models. Ni Yan not only realized self-improvement and career success with strong will and exertions, but did his best to help others, guiding more than 3,200 farmers, including 448 households with disabled family members, to get rid of poverty through industries development, and contributing to the employment of the disabled and the care of the impoverished people with disabilities through his finance and work. The Tibetan model Tenzin Udrup is physically disabled but with a mighty will. He established an handicrafts cooperative for people with disabilities, which integrates local realities and cultural traditions to grow the market with good products. As a result, he became a leading role in getting rid of poverty in rural areas.
Song Guihua donated money and goods and encouraged sympathetic people around her to extend such assistance to people with disabilities.
Deeply moved by their stories at the meeting, the students said that the three great people, even in the darkest time, could convert depression into hope to become the powerful. Young teachers and students of the university's volunteer community exchanged ideas with the three national models on how to do well in volunteer service for people with disabilities.