XHTZ supports development of private enterprises
The first bailout project of the Shoushan Fund was signed at the signing ceremony of Xi'an High-tech Industries Development Zone (XHTZ), which was held on May 12, during the Fourth Silk Road International Exposition.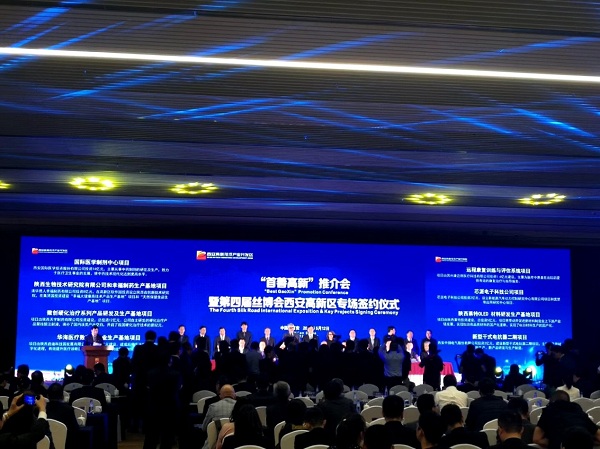 XHTZ holds a signing ceremony during the Fourth Silk Road International Exposition. [Photo/chinadaily.com.cn]
According to the project agreement, the Shoushan Fund and Chang'an Trust will help Xi'an Tong Petrotech Inc with the total amount of no more than 300 million yuan ($43.63 million), of which Shoushan Fund's investment is not than 60 million yuan.
In November 2018, XHTZ initiated the establishment of the Shoushan Fund to resolve the financial difficulties of enterprises and promote the industrial upgrading of enterprises.
The total size of the fund is 15 billion yuan, of which three State-owned enterprises in XHTZ have an intentional contribution of 3 billion yuan and a social capital of 12 billion yuan.
The project exemplifies XHTZ's positive response to the improvement of its financial environment and support for private enterprises.
Founded in 1995, Xi'an Tong Petrotech Inc has developed into a listed group company that can provide oilfield customers with services in comprehensive oil recovery, drilling and completion technology, fracturing technology, and block integration contracting.