Hard and core technology enterprises in XHTZ appear at expo
With the theme of "New Era, New Pattern, and New Development," the Fourth Silk Road International Exposition is being held from May 11-15 in Xi'an, capital of Shaanxi province.
As a national high-tech park that was established in 1991, Xi'an High-tech Industries Development Zone (XHTZ) has made great achievements in the fields of hard and core technology.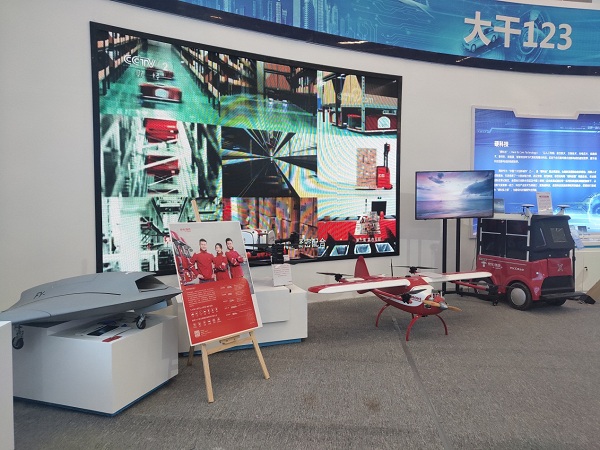 XHTZ's exhibition area at the expo. [Photo provided to chinadaily.com.cn]
At the expo, several enterprises specializing in hard and core technology are showcasing their efforts in the field. They are as follows:
1. Multi-dimensional self-diagnosis technology and large-scale operation and maintenance monitoring cloud platform - Xi'an Sito Electric Co Ltd
By collecting multi-dimensional data and using cloud computing and big data analysis tools to accurately assess the state of equipment, this project strives to achieve centralized operation and maintenance control of large-scale transmission and distribution equipment.
2. High speed laser cladding equipment - Xi'an Zhongke Zhongmei Laser Technology Co Ltd
The company produces high-speed laser cladding equipment for metal surface modification, which can replace traditional high-pollution and high-energy-consuming processes such as electroplating and thermal spraying.
3. Anti-aging and skin tendering beauty instrument - Xi'an Star of Ground Measurement and Control Technology Co Ltd
With its three-level plastic focusing technology, the instrument will promote the regeneration of collagen and rapidly restore the epidermal cells, thereby reducing the appearance of fine lines.
4. Embedded high voltage soft starter - Xi'an Cheegon Electric Co Ltd
The product can install the circuit breaker position and three-phase thyristor voltage regulating device in advance in the high-voltage switch cabinet, free from safety hazards and failure.
5. Land piezoelectric detector - Xi'an Luhai Geophysical Technology Co Ltd
The project has several advantages, such as high frequency response, high sensitivity, low distortion degree, large dynamic measurement range, and wide operating frequency.
6. HZS-1 portable iris, fingerprint and ID card recognition machine - Xi'an Kaihong Electronic Technology Co Ltd
The product is a portable identification and authentication device that integrates iris recognition, fingerprint recognition, and ID authentication. It is a top choice for public security, large-scale industrial and mining enterprises, and special industries.
7. HK-401 multimodal identification system - Xi'an Kaihong Electronic Technology Co Ltd
The system combines multiple identification modes such as iris, fingerprint, ID card, and smart CPU card. It can achieve multi-person, multi-period, multi-modal review and certification with high authentication accuracy and security level.
8. HK-403 iris recognition machine - Xi'an Kaihong Electronic Technology Co Ltd
As a wall-mounted iris recognition machine, the machine is the preferred product for access control management or personnel attendance management, high-end access control management, and strict attendance systems.
9. High precision laser 3D camera - Xi'an Zhisensor Technologies Co Ltd
The product is widely used in industries related to smart logistics, smart manufacturing, finance, and security.