XHTZ's enterprises gears up on building smart cities
Themed "New Era, New Pattern, and New Development," the Fourth Silk Road International Exposition is underway in Xi'an, attracting more than 200 enterprises from 25 countries and regions such as Russia, the United States and Cambodia.
Xi'an High-tech Industries Development Zone (XHTZ) is a national high-tech zone approved in 1991 that has achieved fruitful results in many areas, including cultural creation, technology and the internet of things.
At the expo, several companies specializing in smart city solutions are pulling out all the stops to attract more investors. Let's take a look at them:
1. Smart parking - Xi'an iRain Internet of Things Service Co Ltd
This company provides solutions for smart parking lots using high-definition recognition, high-speed barrier gates and LED displays. It can help drivers with car positioning, route guiding, payment and invoice issuing.
2. Security pre-warning system - Xi'an Siwei Intelligent Technology Co Ltd and Chongqing Northwest Polytechnical University Technology Innovation Center
This project will explore an ADAS system for cars, which can give warnings for changing lanes, bends, slopes and passenger health monitoring. With plans for a production base and testing environment, it is going to build a provincial-level artificial intelligence engineering technology research center.
3. Health big data and analysis and management - Shaanxi Baigedata Technology Co Ltd
This project will help users check their health by establishing personal health records. Its wearable equipment can collect information concerning the users' health, including heart, blood and exercise data. Users can then receive customized health notifications and enjoy online services from quality hospitals.
4. Urban smart parking - Xi'an Alesmart Online Technology Co Ltd
Aiming to speed up the efficiency of parking lots, this project will effectively improve management by using big data analysis, cloud computing, internet of things and mobile payments. It is expected to solve the difficulties of parking in urban areas for drivers.
5. Smart Shopping Carts - Xi'an Superhi Online Technology Co Ltd
This project can help shoppers to shop by themselves. By scanning the QR code, shoppers can browse articles and pay, free from packed supermarkets with long queues and talkative shopping assistants.
6. Vocational platform - Shaanxi Mihe Cultural Creation
This company plans to establish a 1,000 square meter center for vocational training, job seeking and industrial incubation. It is expected to improve workers' skills and help employees adapt to a new company in less time.
7. Qianxiang Special Food Co
This project is also developed by Mihe, which will set up supporting facilities for Shaanxi special food R&D, production and marketing. It is expected to add to agricultural food value and farmers' incomes.
8. Catering service
Mihe also plans to promote a national catering service platform for new businesses, personnel training, marketing and advertising.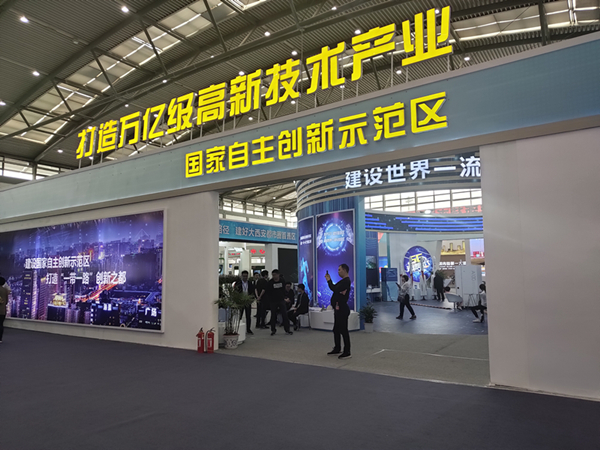 A view of the XHTZ exhibition hall at the expo. [Photo provided to chinadaily.com.cn]