XHTZ's cultural enterprises seek cooperation at expo
The Fourth Silk Road International Exposition and the Investment and Trade Forum for Cooperation between East and West China opened in Xi'an, the capital of Northwest China's Shaanxi province, on May 11, attracting tens of thousands of visitors from across the world.
As a national high-tech zone approved in 1991, Xi'an High-tech Industries Development Zone (XHTZ) has become a new strong economic growth pole in Xi'an and its comprehensive strengths have ranked third for several years in the list of the 114 national high-tech zones.
For the fourth global event, the zone has arranged six cultural creative projects to encourage more global investors. They are as follows:
1. Sharing platform for farms - Xi'an Lansheng Technology Co Ltd
Located in XHTZ, this company's project can realize direct supply for green agricultural products. It will effectively solve difficulties in funds and product sales, thus providing original and green food materials for urban residents.
2. Mihe Creation Town
Shaanxi Mihe Cultural Creation Co Ltd was established in XHTZ in 2012 and has expanded its business from culture to advertising, and from new media to vocational training. At present, it plans to establish a copywriting industry center, which will also specialize in overseas exchanges for national-level cultural industries.
3. National Copywriting Industry Museum
While innovating copywriting technologies, Mihe company also intends to set up a 3,000-square meter museum, which includes various halls for industrial exhibitions, collection displays, digital demonstrations, applications and activities. It is expected to promote Xi'an's development toward becoming a city of museums, a world capital of culture and a silk road cultural highland.
4. Sanshui Silk Road Tourism Zone
In addition, Mihe will further explore pre-Zhou Dynasty (c.16th century-256 BC) culture to construct a comprehensive tourism zone for ecological environment protection, sightseeing, leisure, holiday resorts and entertainment.
5. China Jingwei Tower
Mihe is also going to establish a landmark tower integrating hotels, offices, shopping malls and entertainment venues. "Jingwei" refers to two rivers - the Jing River and Wei River - which both flow past Xi'an. Due to the fact that the sediments differ a lot between the two rivers, people use the phrase "Jing Wei Fen Ming" to describe things that are entirely different from each other.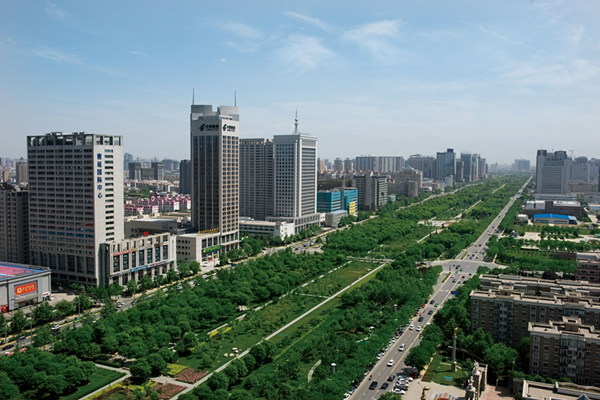 A view of the XHTZ. [Photo provided to chinadaily.com.cn]