Christian Ewert suggests Shaanxi role in Belt and Road construction
"Xi'an High-tech Industries Development Zone is making continuous improvement in the protection of international intellectual property rights, but still needs a more effective approach," said Christian Ewert, director general of Brussels based global trade association Amfori at the Belt and Road Forum on Commercial Legal Environment in Xi'an, Shaanxi province on May 11, 2018.
"Xi'an was the starting point of the ancient Silk Road in China's history and is now an important node on the Belt and Road," he said in an interview with Chinese media. "Last year, Shaanxi set up a pilot free trade zone, which is the only one in Northwest China. It is of great value to promote the development of China's inland areas."
"I'm very glad to have the opportunity to come to Xi'an and participate in today's forum to better understand the opportunities brought about by China's innovation, especially the Shaanxi Pilot Free Trade Zone and the construction of the Belt and Road," he added.  
He believes that trade cooperation between China and Europe has been increasing in recent years. "The operation of the new China-Europe freight trains in 2016 has brought China and Europe closer together and created more opportunities for mutual cooperation in the Belt and Road construction," he said.
He expressed strong support for China's efforts to reduce tariffs over the past two years. He said, "In 2017, China's Ministry of Finance announced tax cuts for 87 commodities, which will not only effectively promote the entry of high-quality foreign products into the Chinese market, but also stimulate the economic development of other countries."
He also described a bright future for Amfori's cooperation with China. "In the past 25 years, I have visited China frequently and seen its development," he said, "Looking towards the future, I hope we can work together with the Chinese government and enterprises to deal with the above three issues and inject more vitality into the Belt and Road construction."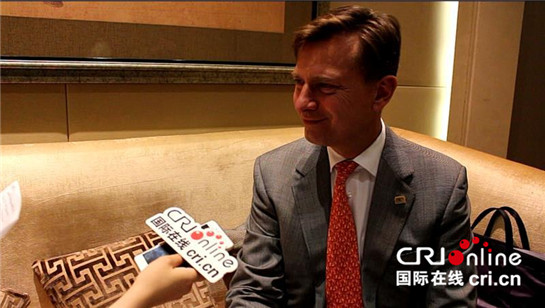 Christian Ewert, director general of Amfori, attends the Belt and Road Forum on Commercial Legal Environment in Xi'an, Shaanxi province on May 11, 2018 [Photo/cri.cn]