New international financial center starts construction in Xi'an
The construction of Xi'an Silk Road International Financial Center's core area has been announced to start on June 14 in the city's High-tech Industrial Development Zone.
The center will contribute to making the zone into a world-class high-tech industrial park.
Wang Yongkang, secretary of the city's Party committee, announced the start of the project and Zhong Hongjiang, secretary of the zone's Party committee, led an oath of all the staff members of the zone's management committee promising to complete the project perfectly.
According to director of the zone's management committee Yang Renhua, the center will be located at the Central Innovation District in the zone and will cover 2 square km.
He stressed that the center plays an important role in accelerating the zone's development in near future.
A super high-level landmark building cluster named the Pupil of the Future will also be constructed in the district.
The building cluster will include 30 hectares of wetland garden, a 666-meter super high-rise, a 520-meter super high rise, a 369-meter super high rise and dozens of 200- to 300-meter high rise buildings for working and living.
Theaters, concert halls, an art gallery and air landscape footpaths will also be built in the block.
Xi'an High-tech Industrial Development Zone is one of the country's top zones established in 1991 with the approval of the State Council and has been the local economic engine with more than 30 percent annual economic growth rate in the past 27 years.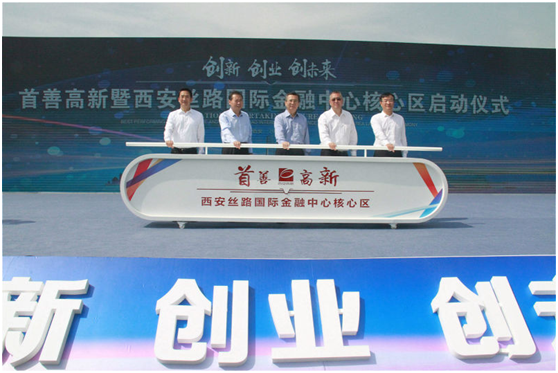 The construction of Xi'an Silk Road International Financial Center's core area is announced to start in the city's High-tech Industrial Development Zone on June 14. [Photo provided to chinadaily.com.cn]