Ningbo Customs helping Zhejiang cut down on counterfeits
Seizures of fake items intended for trade have increased over 30 percent
Ningbo Customs District of China in Zhejiang province places a strong emphasis on regulating management and fighting against intellectual property infringement, while seeking balance between effective IP protection and trade convenience.
The customs agency upholds those values in a bid to create a favorable business environment for international trade.
Since last January, the city's customs authorities have cracked down on 519 IP infringement cases, an increase of 30.7 percent year-on-year, and seized more than 12 million counterfeited goods worth about 610 million yuan ($90.87 million).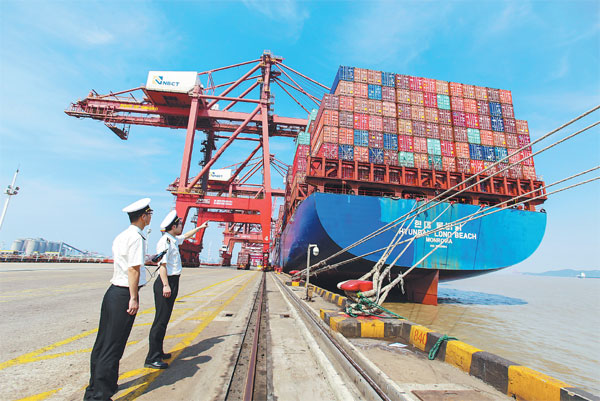 To better manage its exports, Ningbo Customs has strengthened actions during a four-month national campaign code-named Longteng. Photos Provided to China Daily
With the implementation of China's innovation-driven development strategy, "Made in China" products have become more reputable and competitive in global markets. They also face a greater risk of being copycatted.
To better manage its exports, Ningbo Customs had strengthened actions during a four-month national campaign code-named Longteng, which started on August 1 of last year, to combat counterfeit goods in traditional industries such as machinery manufacturing, daily chemicals, food processing, textiles and electronic products.
The customs agency had also targeted counterfeit items in emerging sectors like energy conservation, environmental protection, telecommunication electronics, high-end equipment manufacturing and bio-medicine.
It took decisive measures to stop counterfeits from being exported to Africa, the Middle East, Latin America, Southeast Asia and the countries and regions involved in the Belt and Road Initiative to protect the reputation of China's national brands.
Huawei Technologies, one of China's telecoms giants, for example, has won affection among international consumers backed by its high-quality products and services. However, its success sparked a wave of fake products, produced by people looking to capitalize on its success.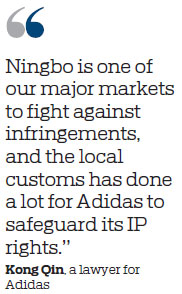 In early April, the customs agency seized 1,310 counterfeit products bearing the Huawei trademark. They included mobile phone screens, cells and plastic stickers, and had a potential value of 113,000 yuan. The goods were intended to be exported to Papua New Guinea and Mozambique.
"Qualified lithium batteries must meet strict requirements for safety performance like charging protection, but these copycats have many potential security problems that will seriously affect users' health and safety," said Huang Ting, a senior official with Ningbo Customs.
In addition to damaging the interests of foreign consumers, copycats also hurt the image and reputation of Chinese brands in the world market, Huang added.
Tri-Circle Lock Industry Group has benefited from stringent protection by Ningbo Customs. Since 2009, authorities have seized more than 4 million products with counterfeit Tri-Circle trademarks that were worth nearly 20 million yuan.
The company, founded in 1930 in Yantai, Shandong province, is one of China's oldest lock makers with a time-honored brand. IP protection has also been a top concern for foreign-funded companies, and China's newly adopted Foreign Investment Law highlights the significance of protecting the IP rights of foreign investors and companies.
Ningbo Customs has been committed to developing a fair environment for doing business in Zhejiang for years to serve its export-oriented economy.
In April, it seized a shipment of 129,000 pairs of fake glasses bearing trademarks of luxury brands like Dior, Giorgio Armani, Boss, Cartier, Chanel, Gucci and Ray-Ban, with a retail value of about 1.36 million yuan.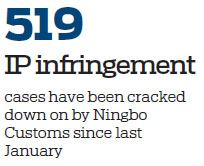 The glasses were planed to be exported to Egypt. The customs agency has also seized a large number of counterfeit sports products with labels of Nike, Adidas and Puma.
It has cracked down on 102 cases violating Adidas trademarks since last year and seized 552,000 copied products valued at nearly 47.42 million yuan.
"Ningbo is one of our major markets to fight against infringements, and the local customs has done a lot for Adidas to safeguard its IP rights," said Kong Qin, a lawyer for the sportswear company. Products designed for children are another highlight of customs inspection in Ningbo.
Authorities recently seized a batch of puzzles violating trademarks of British animation Peppa Pig, one of the most watched cartoons by children around the world.
The 3,200 puzzles intended for export were found in 10 boxes, and valued about 100,000 yuan.
This was the 30th case violating the IP rights of products intended for children that Ningbo Customs cracked down on in the past two years. Since 2018, the authorities have seized 140,000 counterfeits worth 5 million yuan, including crayons, umbrellas, pillows, pencil bags, seals and stationery.
Most of the items seized were poor-quality products with many potential security problems.
haonan@chinadaily.com.cn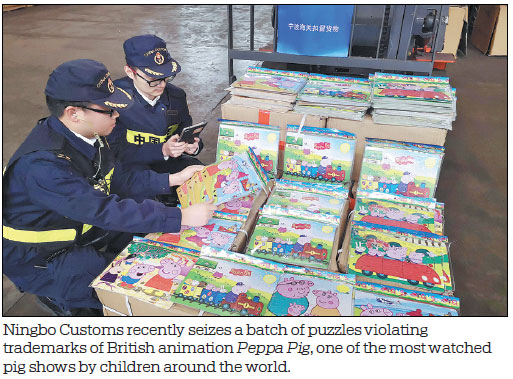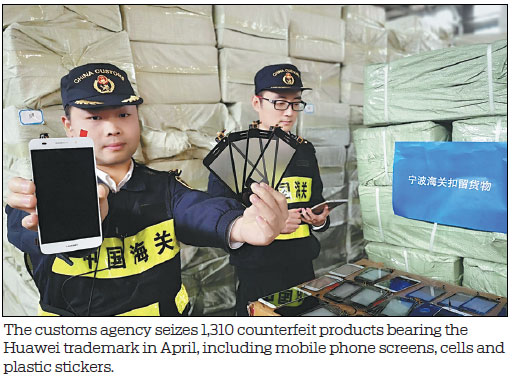 (China Daily 04/30/2019 page24)