Siming focuses on film as key industry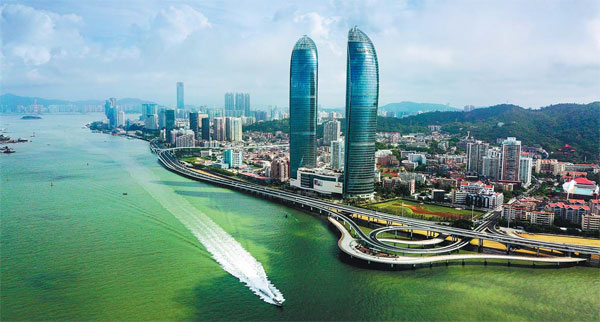 Siming boasts abundant natural, economic, cultural and social resources. Wang Jianhua / Xinhua
Upcoming China Golden Rooster Film Festival to raise profile of area's advantages, key resources
Xiamen's Siming district, which boasts abundant economic, cultural, natural and social resources, will forge ahead with the development of its film industry to support regional growth.
Official statistics show that the city's rapidly growing emerging industries have accounted for more than 60 percent of its annual GDP over the past few years. The average annual growth rate of the cultural industry in the city is 15 percent.
Xiamen will host the 28th China Golden Rooster and Hundred Flowers Film Festival this year, one of the top events in China's film industry, after the city government signed an agreement with the China Film Association last year.
Taking advantage of this grand gathering, Siming district has rolled out a series of plans aimed at developing the regional film industry, including infrastructure projects and talent recruitment programs.
A special office has been set up by Siming to provide assistance and support to film and TV crews.
Xu Jinchen, who is in charge of the office, said the local government has realized that it was not easy for non-native film and TV crews to find the right department and the right person when they need government help.
"We are committing to aiding film and TV crews to mobilize public resources for shooting, such as schools, roads and office buildings", he said.
Siming district, home to Gulangyu Island, Xiamen University, Shapowei and Xitouxia, is known for its diverse landscapes and pleasant atmosphere, and "these resources can meet the different shooting needs of film and TV crews," Xu said.
Shapowei, once a fishing village in ancient Siming, became the first officially recognized film production center in Siming in January.
Last year, several dramas were shot in Shapowei, Xu said.
"Shapowei is attractive to many film and TV crews for its blend of modern and historic culture."
In 2017, Siming welcomed 13 film and TV production companies with overall registered capital of 180 million yuan ($26.78 million). The film industry was listed as one of the 10 key industries of the area.
Xiamen Yufa Cultural Media, established in Siming district in 2015, was a film and TV production service provider.
"Since 2018, we have transformed into a filmmaking company and established our professional team in the consideration of the rapid development of the film industry in Xiamen," said Du Cuili, a manager of Yufa.
"The China Golden Rooster and Hundred Flowers Film Festival will provide new opportunities for us in the next decade," she said.
According to Du, the film industry features a wide, expanded industrial chain that requires the input of lots of capital and resources to develop.
Xiamen has a complete film industrial chain, which allows companies to focus on integrating resources and conducting industrial research, she said.
The city's year-round warm weather is another advantage in attracting film companies, according to Du.
Du also noticed that the development of the film industry in Xiamen will help to promote cross-Straits cultural exchanges and boost awareness of Chinese culture around the world.
"It is crucial for us to achieve better development," Du added.
In 2018, the district government released a plan to support the film industry by providing more services and incentives to film companies and talent.
"Many film and TV crews are flocking to Siming, which provides chances for the district to become a leader in the film industry," said Li Xiaohong, president of Xiamen film association.
The district should utilize the resources and opportunities of the award to promote personnel cultivation and the development of related industries, she added.
Looking ahead, the district will continue to promote its film industry by integrating with industries such as tourism, technology and finance, according to the government plan.
liangkaiyan@chinadaily.com.cn
(China Daily 03/28/2019 page19)