Hunan banking on cutting-edge tech for industrial upgrade
Emerging technologies are revitalizing the industrial upgrade of the manufacturing sector in Central China's Hunan province, according to top provincial officials.
Emerging technologies are technologies that are often perceived as capable of changing the status quo, like big data, cloud computing, artificial intelligence, fintech and new energy vehicles.
Xu Dazhe, governor of Hunan, said that the tech-savvy approach has helped energize the province's manufacturing industry and put it on the high-quality development path.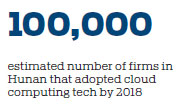 "The local government has enacted a series of measures that promotes the use of technology in traditional industries. Going forward, we will put more effort into the betterment of industrial chains in sectors like vehicle manufacturing, steel, nonferrous metals, and others," Xu said.
Over 100,000 companies in Hunan adopted cloud computing technologies by the end of last year, while nearly 1,000 internet companies were incubated in the province's 90-odd big data industrial parks. In addition, Hunan has also launched a test zone for intelligent-connected vehicles.
Electric vehicle manufacturing is already one of the biggest industries in the province, which has embraced the use of emerging technologies so much that the province accounts for over 20 percent of global production. There are 13 new energy vehicle manufacturers in the province with annual output exceeding 50,000 units. Hunan is also seeing a boom in the manufacturing of small parts, once a weak link in its industrial chain.
The moves have come at a time when the central government is planning to expand its demonstration projects for smart manufacturing in areas like equipment, raw materials, consumer goods and many others.
The Ministry of Industry and Information Technology announced last year that it had identified 99 projects across the nation as demonstration projects for smart manufacturing. At that time, the ministry had said that it would work with the Hunan government to promote the development of equipment, railways, aircraft engines, digital information, and new materials. Among the 99 projects selected, seven were from Hunan.
Steel tube manufacturer Hengyang Valin Steel Tube Co Ltd was one of the companies that was selected for the industrial transformation. By using big data analysis, the company has been able to make optimal tweaks to its manufacturing process for greater efficiency.
"Going forward, we will fully utilize data analysis to predict and detect system bugs and equipment deficiencies to achieve a more efficient manufacturing. We will also create a database to track product quality changes and optimize manufacturing procedures," said Cheng Sixiang, deputy general manager of Hengyang Valin Steel Tube.
Cheng said the group has benefited from the policy support offered by the local government. "Going forward, we expect to see a communication platform set up by the local government for companies to share experiences and learn from each other. We also look forward to a broader channel for companies to cooperate with universities and institutes for more tech support."
Yang Feng, CEO of Hunan-based micro-satellite company Spacety Co Ltd, shared similar views.
"Hunan's plan to become the smart manufacturing hub in China and its efforts in this regard have lent considerable support to our development plans," Yang said.
"In addition, we got technical support from the National University of Defense Technology and Central South University in the province," he said.
The company plans to send about 20 microsatellites to space this year and explore more areas in the field of remote sensing and internet of things.
Contact the writers at liuyukun@chinadaily.com.cn