CPPCC to mark 70th anniversary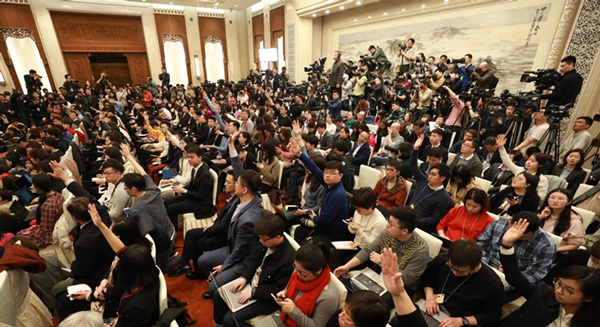 Scores of reporters have questions at a briefing in Beijing on Saturday about the second session of the 13th CPPCC National Committee. ZHU XINGXIN / CHINA DAILY
Celebrations will be held this year to mark the 70th anniversary of the founding of the Chinese People's Political Consultative Conference, a spokesman for the national political advisory body said on Saturday.
Related conferences and exhibitions will be held to mark the anniversary, and more theoretical research will be enhanced to summarize the practical experience of the CPPCC over the past 70 years, Guo Weimin, spokesman for the second session of the 13th CPPCC National Committee, said at a news conference in Beijing.
"We'll step up publicity efforts to tell the stories about the CPPCC," he said, adding that this year the political advisory body will collect historical materials, issue a series of publications, make promotional films and hold exhibitions to mark the anniversary.
Saturday's news conference was conducted one day ahead of the opening of the annual session of the national political advisory body. The session is set to conclude on March 13, Guo said.
During the session, political advisers will hear and discuss a report about the work of the Standing Committee of the CPPCC National Committee and a report on how proposals from political advisers had been handled since the previous session, he said.
The political advisers will be present at the second session of the 13th National People's Congress, the top legislature, as nonvoting participants. They will hear and discuss reports including a government work report, Guo said, adding that they will also discuss a draft law on foreign investment.
The CPPCC is an important organ for multiparty cooperation and political consultation led by the Communist Party of China. It is a major channel for socialist consultative democracy and a specialized consultative body.
Its main functions are political consultation and democratic oversight, as well as participation in and deliberation of State affairs.
Guo said the CPPCC plays an increasingly important role, and the system has grown increasingly efficient and professional over the past 70 years.
The CPPCC National Committee has also strengthened management over its members, Guo said.
People who have seriously harmed the interest of the country and the people, and those who are convicted or suspected of violating laws and regulations, should not be named members of the CPPCC National Committee, Guo said.
Members guilty of misconduct should make timely corrections. Otherwise they should resign from the committee, he added.