In the zone to get businesses booming
High-tech district of Xi'an achieves major gains through the decades with streamlined regulation and a wealth of scientific experts
Through China's reform and opening-up, Xi'an Hi-Tech Industries Development Zone has made great progress in its 27 years of history.
The zone's growth has contributed to China's reform and opening-up by setting an example of high-tech development in the central and western regions.
In the summer of 1991, the zone was founded in the southwest of Xi'an, capital city of Northwest China's Shaanxi province. And 27 years later, the Xi'an high-tech zone was ranked No 4 among the 146 State-level high-tech zones in China.
Recalling its history, local officials and businesspeople cite the innovative administrative system, rich science and technology resources and sound industrial foundation as the factors that make the Xi'an zone stand out.
Since the zone was founded in 1991, it has been expected by the central authorities to play a leading role in China's high-tech, innovative and sustainable growth, said local officials.
With this mission in mind, the local government created a friendly environment for businesses, helping them turn local research into action.
For this, the local authorities have stuck to the principles of reform and opening-up, institutional innovation and fostering and attracting resources.
A recent boost to the zone's opening-up is its entry to the Shaanxi Pilot Free Trade Zone in 2017.
In the area of institutional innovation, the zone has been improving its services through streamlining administrative procedures.
In May, the Wanda Plaza branch of the Xi'an Hi-Tech Industries Development Zone's comprehensive service center opened. This is one of five administrative service outlets of the zone and its most recent move to expand its network.
The zone pioneered a one-stop service system in Shaanxi. A total of 465 administrative procedures can be handled under one roof. Also, civil servants at the service outlets work seven days a week.
Science resources
Xi'an is one of the leading cities in China in science and technology resources.
It has 63 higher-learning institutions, more than 460 research institutes and more than 1 million professionals in various science and technology areas.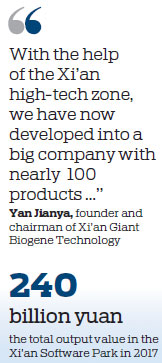 The administrative commission - the local government - of the Xi'an high-tech zone has made efforts to unite technology and talent to help entrepreneurs start up their businesses and grow, said local business leaders.
Yan Jianya, founder and chairman of Xi'an Giant Biogene Technology, recalled how his company developed with the help of the Xi'an high-tech zone's administrative commission.
He said when the company was founded 18 years ago, it was only a small firm with an office space of 18 square meters.
Knowing the market potential of Giant Biogene's award-winning products, the commission offered financial assistance totaling 10 million yuan ($1.45 million) to help its research and development.
"With the help of the Xi'an hightech zone, we have now developed into a big company with nearly 100 products covering medicines, medical equipment and health food," Yan said.
To help turn local research into products, the zone established the Xi'an Technology Resources Market, to facilitate transactions between researchers and companies.
In 2017, the total patent applications from the zone amounted to 17,000, increasing 77 percent from 2016.
The transaction value of technology transfer totaled 35.2 billion yuan in the same year.
There were 240 companies in the zone recognized as high-tech enterprises by the State in 2017, putting the total number of such enterprises at 1,540.
World-class zone
In March 2017, the Xi'an zone announced a new target: to become an internationally known high-tech park through a globalization strategy.
Yeahmobi, a digital marketing company and privately held startup, became Xi'an's first 'unicorn' enterprise when its market capitalization surpassed $1 billion in July.
The company is a role model for the Xi'an high-tech zone's globalization.
The company has branches in several cities abroad, including San Francisco, Berlin, Tokyo, New Delhi and Seoul.
Its digital marketing platform now serves more than 2,000 corporate clients in more than 200 countries and regions.
The area where Yeahmobi is located is the Xi'an Software Park, which is a core part of the hightech zone.
Companies in the software park produced more than 240 billion yuan worth of products and services in 2017, becoming a powerful engine for economic growth in Xi'an.
With a strong basis in electronics and information, advanced manufacturing, biomedicines and modern services, the Xi'an hightech zone is also a favored destination in China's western and central regions for investors from home and abroad.
According to reports of People's Daily, the high-tech zone attracted 116.9 billion yuan of investment from the rest of the country so far this year, up 93.8 percent year-on-year.
Overseas investment to the zone amounted to $1.59 billion, accounting for 49 percent of the inbound overseas investment in Xi'an.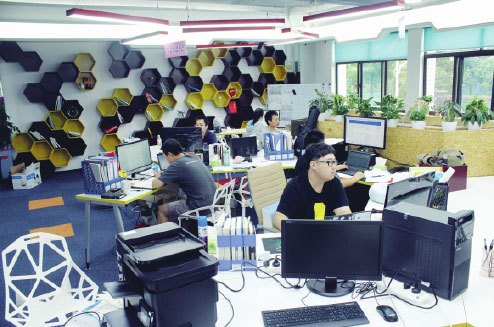 Postgraduate students study at one of the programs offered by a research institute in Xi'an.Photos Provided To China Daily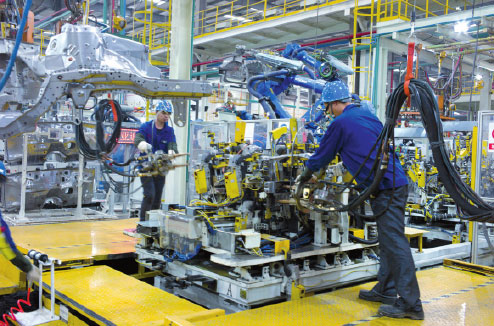 Workers assemble cars at a factory of automaker BYD's branch company in Xi'an Hi-Tech Industries Development Zone.Photos Provided To China Daily

(China Daily 12/28/2018 page12)