Belt& Road Initiative to benefit all nations, event delegates say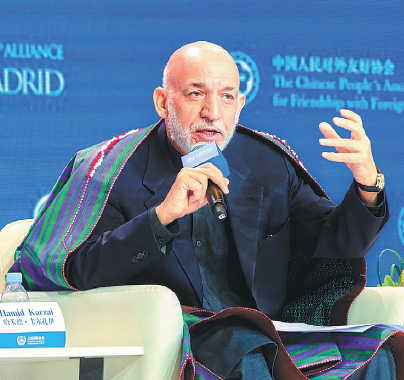 Hamid Karzai, former president of Afghanistan, shares his insights with delegates.[Photo/ chinadaily.com.cn]
China is expected to play an increasingly important role in the global community as it continues to open up its economy and develop new connections with foreign nations and regions- especially those involved in the Belt and Road Initiative, according to speakers at the Imperial Springs International Forum.
"The reform and opening- up of China is not just good for the country alone but also signifi cant to other countries in the world," said Yukio Hatoyama, former prime minister of Japan.
Numerous companies worldwide, some of them in Japan, have benefited from the Chinese policy of opening its populous market with 1.3 billion people to the world, he said. In return, the world's investment also worked as an impetus to China's economic development.
He said he highly appreciates the Belt and Road Initiative, which can help solve regional disputes and create regional prosperity.
"I've noticed that Chinese companies have showed rising interest in investing in the infrastructure of the Belt and Road countries … In fact, these countries are (facing) shortages of money to build roads, rails and ports," Hatoyama said.
Improved connections between countries through upgraded infrastructure can accelerate the economic development of both sides and avoid disputes as a result, he noted.
Irina Bokova, former director-general of UNESCO, said China has made great efforts to solve the diI culties it confronted 40 years ago, such as poverty, underdevelopment in its economy, inequalities and illiteracy.
Now, a stronger China is taking global responsibilities for such issues as climate change, sustainable development and defending globalization, she said.
Bokova echoed Hatoyama's view on the Chinaproposed BRI, saying it is a "win-win project", and noting China's investment in B&R countries and regions will raise the local economies in those countries, provide educational opportunities for young people, and hopefully eliminate conflict.
She said the initiative can also promote intercultural exchanges along what was once known as the Silk Road, which will also lead to the elimination of misunderstandings.
Hamid Karzai, former president of Afghanistan, said: "The entire spectrum of China's reform and opening-up policy and the launch of economic activities are historically for the whole world an amazing exercise."
He said China has been a model for his country to follow, though it is still poor after years of war and interference.
He said the BRI has posed "tremendous opportunities" for people in Afghanistan, which is one of the BRI countries, to partner with the massive economic project and hopefully see the benefi ts of it as well.
Meanwhile, Karzai said, Afghanistan can also help China gain easy access to western Asia and the Middle East.
"Afghanistan provides the best axis that could make distances much less for Chinese goods to go across to the rest of the world and from the rest of the world to China," Karzai said.