Former leaders: Win-win solutions key to building a shared future
Former world leaders, renowned scholars and business elites from around the world on Monday called for win-win cooperation to build a shared future at an international meeting in Guangdong.
This year's meeting of the Imperial Springs International Forum came against the background of heated discussions regarding current China-US trade tensions.
Danilo Turk, former president of the Republic of Slovenia, pointed out that while such problems can be difficult, both sides can understand each other better than might be apparent, and can work out solutions if proper political will is generated.
He made the remarks at a panel discussion on the theme of "advancing reform and opening-up, promoting win-win cooperation".
As an example, he cited how China and the European Union have found a way forward.
"There are obviously many differences between the European Union and China in intellectual property rights and a lot of issues; however, it would be very wrong to consider the differences impossible to overcome," he said.
"It is not European or Chinese priorities first; it is not intellectual property first; it is sustainable development goals first."
China's former vice-foreign minister He Yafei said global challenges need global solutions and global solutions need global consensus, especially among major power groups.
"Forty years of reform and openingup have produced a new China and the evolving face of China has also affected the world. It will continue to influence the world in a more positive fashion," he said.
He regarded many global challenges as a backlash against globalization and said it is important to find ways to deal with that backlash.
"We are all part and parcel of this world. The key is sharing. We need to build a world with shared responsibility, a shared interest, a shared future and a shared destiny. And we must always try to do our share to build a shared society," he said.
Kim Campbell, former prime minister of Canada, spoke from the perspective of climate change and environmental protection. She said it is very important for China to continue its outstanding leadership in the area.
"The current plan that China has instituted to reduce the number of power plants and deepen investments (in ecology) is extremely important in helping not only to achieve China's goals, but is an inspiration for the rest of the world."
In addition, she also reiterated the importance of soft power.
"There is a deep well of goodwill and pleasure at seeing China overcome traditional patterns of poverty in the family, the flourishing of the Chinese people and Chinese society, as well as the changes that have taken place over the last four decades."
grace@chinadailyhk.com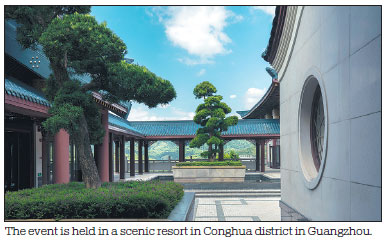 (China Daily 12/13/2018 page12)