China Automation Conference 2018 held in Xi'an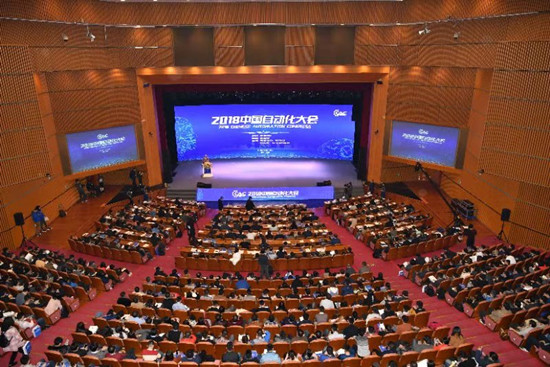 China Automation Congress 2018[Photo provided to chinadaily.com.cn]
China Automation Congress 2018, sponsored by the Chinese Society of Automation and hosted by Xi'an Jiaotong University, opened on Dec 1 in Xi'an, Shaanxi province, Northwest China.
Zheng Nanning, academician of the Chinese Academy of Engineering, said at the opening ceremony that the congress is a large-scale and highest level comprehensive academic congress in the field of automation, information and intelligent science held in China.
"Facing the world's scientific and technological frontiers and the country's major needs, the congress will lead the development of automation, information and intelligent science and other related disciplines, strengthen the mutual reference and cross-integration of different disciplines and specialties, and provide a good opportunity for promoting the development of the national economy," Zheng said.
With the theme of "Automation Creates Intelligent Society", the 2-day congress fully demonstrated the characteristics of the times in which automation science and technology lead the construction of intelligent society. It provided a broad platform for people who constantly promote the construction of "accelerating the construction of an innovative country", and fully demonstrated the China's brilliant scientific and technological achievements in automation, information and intelligence in China.
In his speech, professor Wang Shuguo, president of Xi'an Jiaotong University, pointed out that automation is the crystallization of modern science and technology and modern industry, and is an important condition for and significant symbol of the progress of human civilization and the modernization of science and technology.
"This congress closely follows the country's major needs and the pulse of the times' development, provides a high-end academic dialogue platform for experts and scholars in the field of global automation to display innovative achievements and look forward to future development, effectively pooling the wisdom and strength of all parties, in order to improve the level of scientific and technological innovation in the field of automation in China and make positive contributions to the strategic objectives to achieve significant national development," Wang said.
The opening report from former President of the Chinese Academy of Engineering, Academician Zhou Ji, was entitled "Intelligent Manufacturing as the Main Target to Accelerate the Construction of a Strong Manufacturing Country".
In his report, Zhou pointed out that the new generation of intelligent manufacturing is a deep integration of the new generation of artificial intelligence technology and advanced manufacturing technology.
The congress gathered seven keynote reports, more than 200 special invitation reports, more than 180 conference papers and more than 800 posting papers, and also held a congress round-table forum and two thematic round-table forums focused on the future development of automation.