2018 Silk Road Innovative Design Summit Forum held in Xi'an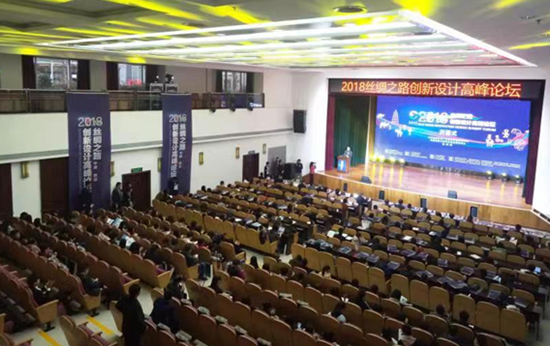 The 2018 Silk Road Innovative Design Summit Forum[Photo provided to chinadaily.com.cn]
The 2018 Silk Road Innovative Design Summit Forum was held in Xi'an, Shaanxi province, on Nov 27, promoting innovative design for bettering Chinese products.
The forum was sponsored by the China Association of Science and Technology, the China Strategic Alliance of Innovative Design Industry, and the Silk Road Innovative Design Industry Alliance, and jointly operated by the China Society of Mechanical Engineering, the Xi'an Design Federation and the Around-University Industry Belt Management Committee of Xi'an Beilin District, the Hong Kong Institute of Engineers, the Macao Association of Science and Technology and the Taiwan Yushan Science and Technology Association.
The forum attracted more than 400 scientists, officials and entrepreneurs. Participants included Lu Bingheng, academician of the Chinese Academy of Engineering and chairman of the Silk Road Innovative Design Industry Alliance; Gu Peihua, professor of Xi'an Jiaotong University, academician of the Canadian Academy of Engineering and professor of Tianjin University; Yan Jun, Chief Technical Expert of China Shipping Group; Yang Le, vice chairwoman of Shaanxi Women's Federation; Li Jun, chairwoman of Xi'an Women's Federation and Lu Guangwen, director of Beilin District.
Academician Lu Bingheng expounded on the important role of innovative design in his speech at the forum, saying "Innovative design is the most important part of the manufacturing industry. It plays an important role in showing that Chinese products are created in China, and can become famous brands in China. Vigorously developing innovative design is of great strategic value to the scientific and technological development and economic construction of the countries and regions along the Silk Road."
The participants agreed on the development strategy, path and key technologies of innovative design, and how to drive the development of the Silk Road. They decided that innovative design should be people-oriented, serve society and create value, and make positive contributions to promoting the exchange and cooperation of technology, economy and culture in the countries and regions along the Belt and Road.