2018 Guangxi Tourism Promotion Meeting held in Xi'an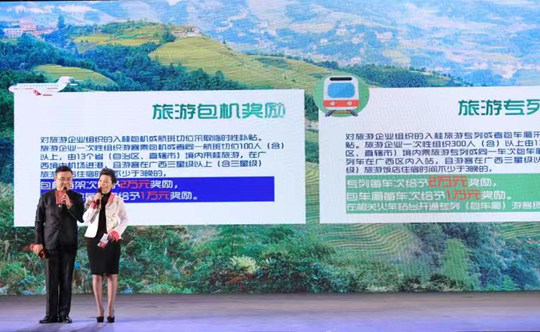 The 2018 Guangxi tourism promotion meeting[Photo provided to chinadaily.com.cn]
A 2018 Guangxi Tourism Promotion Meeting was held on Nov 26 in Xi'an, Shaanxi province, northwest China.
The promotion laid a foundation for further tourism exchanges and cooperation between Guangxi zhuang autonomous region and 13 provinces and cities in northeast area. Guangxi is one of the five autonomous regions of ethnic minorities in China and the only coastal autonomous region in China. Strong folk customs, romantic coastal scenery and peculiar karst landforms are the unique charm of Guangxi.
"Guangxi is also a rare cold-shelter tourist resort for northerners. When the north is cold, the south is warm as spring. The unique tourism resources show the accumulation of ancient culture and the multiculturalism of Guangxi," said Gan Lin, Party secretary of the Culture and Tourism Administration of Guangxi Zhuang autonomous region.
The "Winter Tour to Guangxi" in 2018 launched policies for 13 provinces and municipalities, including 50% discounts on tickets in scenic spots, 50% discounts on highway traffic, and price limitations in tourist hotels. Preferential measures such as favored routes, charter incentives and special train incentives were introduced for tourism enterprises.
"We have obvious advantages in location, complementary resources and mutual attraction. We have in-depth and extensive cooperation and exchanges in various fields, especially in the field of cultural tourism, which has a solid foundation and broad prospects," said Chen Mengyu, deputy director of the Shaanxi Provincial Culture and Tourism Administration.