2019 Xi'an International Fashion Week press conference held in Beijing
Xi'an International Fashion Week 2019 was announced on Nov 23. It will be held in April, 2019 in Xi'an, Shaanxi province in Northwest China, to convey the city's confidence in its fashion culture to the whole world.
According to Xu Mingfei, deputy mayor of Xi'an Municipal People's Government, the fashion promotion organized by local government will hold fashion publishing shows, fashion theme forums, street shooting shows, designer workshops and other related activities.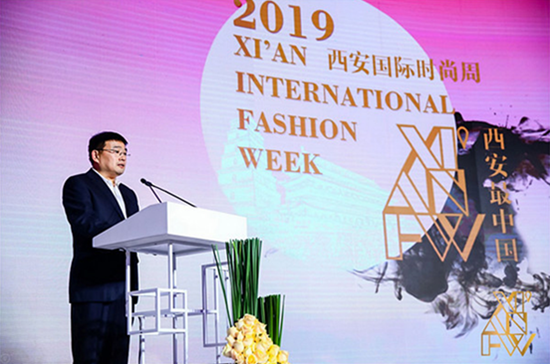 Xu Mingfei speaks at the fashion week press conference held in Beijing on Nov 23.[Photo provided to chinadaily.com.cn]
As the ancient capital of the thirteenth dynasty, Xi'an has profound historical and cultural origins, and even in the seventh century of the Tang Dynasty(618-907), Chang'an city (now Xi'an city) could have been regarded as a world-class cultural center and fashion capital, Xu said.
"At that time, the population of Chang'an City had exceeded one million, and dozens of diplomatic missions and tens of thousands of foreign students came here. As the starting point of the ancient Silk Road, Chang'an, from dress culture to lifestyle, constituted a communication hub between eastern and Western civilizations, full of self-confidence, openness, diversity and inclusiveness of the spirit of the metropolis," the deputy mayor said.
Based on the momentum of solid development and strong historical background, the Fashion Week takes "Xi'an is the most China" as its theme. Combining the global fashion week release and operation system with the intention of presenting a new style of Hu decorative culture reflecting the Han and Tang dynasties and Chinese contemporary clothing, it will display the integration and collision between traditional Chinese culture and today's international community. Art and design provide new platforms for interconnection and widely attract global fashion circles and high-quality media resources to Xi'an.
At the press conference, the organizers of Xi'an International Fashion Week and cooperative brands held solemn signing ceremonies. Their joint efforts will present the dress culture of the Han and Tang dynasties and the new fashion design of contemporary China, promote the spirit of the Silk Road, highlight cultural self-confidence, and create a new international brand in Xi'an as it develops into a fashion culture plateau.