Seventeenth Xi'an International Music Festival officially opens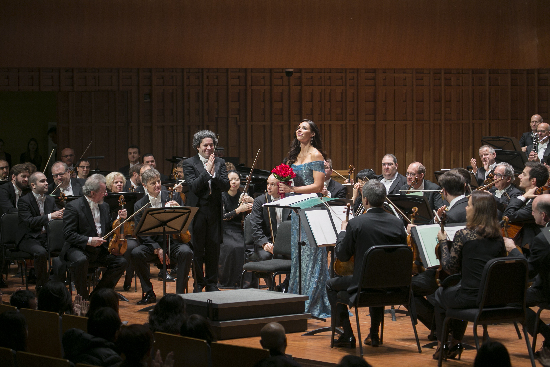 The seventeenth Xi'an International Music Festival

[Photo provided to chinadaily.com.cn]
The seventeenth Xi'an International Music Festival was officially kicked off on Tuesday with a perfect performance by the Berliner Philharmoniker led by renowned conductor Gustavo Dudamel in Xi'an Concert Hall, Xi'an, Shaanxi province in Northwest China.
The Berliner Philharmoniker performed a concert of classical music at the festival's opening ceremony. It was the orchestra's first appearance in Xi'an. All kinds of music will be staged from Nov 20 to January, a magnificent and elegant musical and audio-visual feast for all audiences.
Mr. Tu is an old friend of the Xi'an International Music Festival. He still retains the ticket of the first Xi'an International Music Festival from seventeen years ago. "In recent years, I have seldom gone to Beijing and Shanghai to watch the show, because it comes to Xi'an. So many famous musicians have come to my hometown. I feel very happy and proud."
During the two-month music festival, 539 artists from 16 countries will give 30 performances of music from all over the world.
Launched in 2002, the festival has been successfully held 16 times with 373 performances by more than 6,400 artists from more than 40 countries. It has become the most influential art festival brand in Shaanxi and even in the mid-western China.
Xi'an citizens don't have to fly to Beijing or Shanghai; they can hear the beautiful classical music in their own home city. It is hard to imagine such high art becoming part of the daily life of the residents of Xi'an.