Silk Road expo in Xi'an draws attention from the world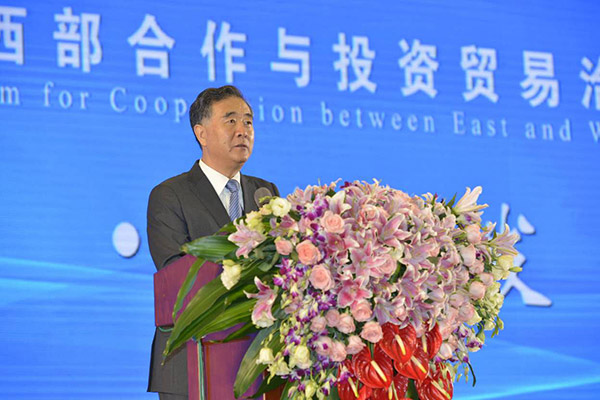 Wang Yang, vice premier of China's State Council, delivers a speech at the opening of the 2017 Silk Road International Exposition and the 21st Investment and Trade Forum for Cooperation between East and West China. The event is held in Xi'an, Northwest China's Shaanxi province, and the photo was taken on June 3. [Photo provided to chinadaily.com.cn]
The 2017 Silk Road International Exposition and the 21st Investment and Trade Forum for Cooperation between East and West China (ITFCEW) kicked off in Xi'an, Northwest China's Shaanxi province, on June 3.
More than 300 overseas companies from across 42 countries and regions are expected to attend the five-day exposition, themed New Platform, New Opportunities and New Development.
"It is quite useful for developing cooperation between countries involved in the Belt and Road Initiative," Dusan Bella, Ambassador Extraordinary and Plenipotentiary from the Embassy of the Slovak Republic in Beijing, said.
"The exposition in Xi'an turns President Xi's vision in action, and builds bridges between people and businesses."
The five-day event will consist of major activities and exhibitions, including 20 high-level conferences and international forums – such as the opening ceremony of the 2017 Silk Road International Exposition and the Silk Road Economic Belt Forum for International Cooperation, as well as the 2017 Silk Road Qinling Forum and International Business Associations' Roundtable Conference in Xi'an.
Exhibitions will include 12 pavilions, with two main venues and three parallel venues, covering an area of 300,000 square meters (30 hectares). The two main venues were located in the Qujiang International Conference and Exhibition Center, and the Xi'an Greenland Pico International Convention and Exhibition Center. The three parallel venues have also been located in the Xi'an Tang Dynasty West Market, Xi'an South China City and Shaanxi Science and Technology Resource Co-ordination Center.
Representatives from various countries involved in the Belt and Road Initiative have, so far, actively taken part in the event, with many looking for new development opportunities in the new platform for mutual benefits.